18-Wheeler Collision Results in Flames and Traffic Closure
by Abigail Vela | September 14th, 2021 | 18 Wheelers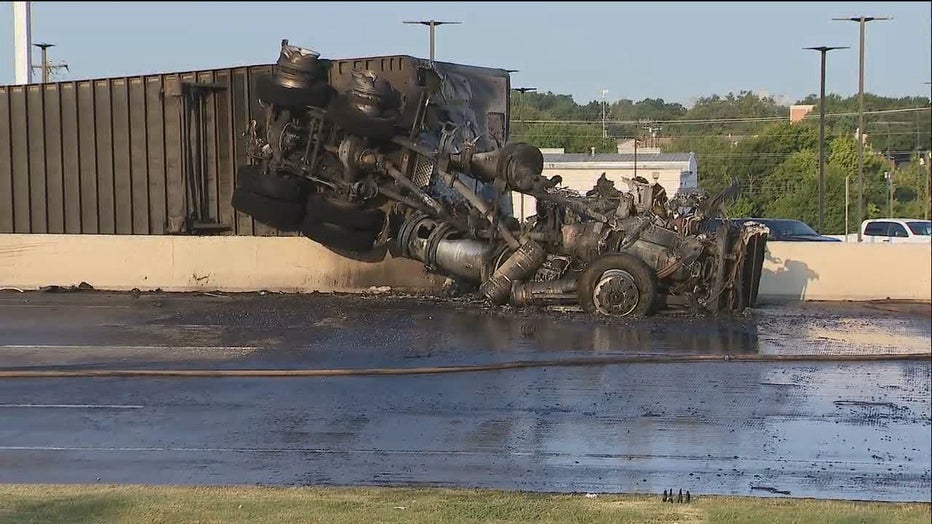 Around 7 am on Thursday, September 8, an 18-wheeler collided with another vehicle, causing it to cross over the median line and flip on I-635 near Mesquite, Texas.
Additional Details
Smoke and flames were reported at the scene of the car crash. After 40 minutes, the Mesquite Police and Fire Departments were successful in putting out the fire. The driver in the 18-wheeler was successfully recovered from the crash.
The incident resulted in the closure of Northbound I-635 and Town East Boulevard. All lanes reopened around 5:30 pm.
Top 3 Safety Tips for Driving Around 18-Wheelers
It's reported that over 4,000 large trucks and vehicles are involved in fatal crashes year-round. If you are not aware of the vehicles around you, it can be dangerous to maneuver the roads and highways, especially around 18-wheelers and large trucks.
Here are a few safety tips to avoid any accidents with larger vehicles:
Avoid 18-wheeler blind spots. Blind spots are to the left or right of these large vehicles and can extend the length of their semi-trailer. Keep your distance behind them. If you are planning to pass them, be sure to pass them quickly on their left!
Be aware of right turns! 18-wheelers tend to make wide right turns, taking up multiple lanes to turn their whole vehicle and semi-trailer.
J. Gonzalez recommends you stay aware of an 18-wheeler's turn signals. If you notice they are turning right, be sure to keep your vehicle out of the way to avoid a collision! #practicesafedriving #drivingsafetytip Click To Tweet
Always respect 18-wheelers on the road. They primarily use highway systems to haul tons of products, produce, and other goods. Do not tailgate or cut off an 18-wheeler. Allow them to pass you and to leave room for them to get onto highways.
Your Car Accident Lawyer in McAllen Is Here For You!
Colliding with an 18-wheeler may cause serious injuries and often results in fatal accidents.
If you or a loved one has been involved in an accident with a larger truck or vehicle, our McAllen car accident lawyer, J. Gonzalez, is here to help you. You may be entitled to financial compensation to ease your recovery.
Contact us to find out how we may best help you with your car accident claim.