Hit-and-Run Accident in Alamo Kills a Motorcyclist
by diego | July 26th, 2019 | Recent News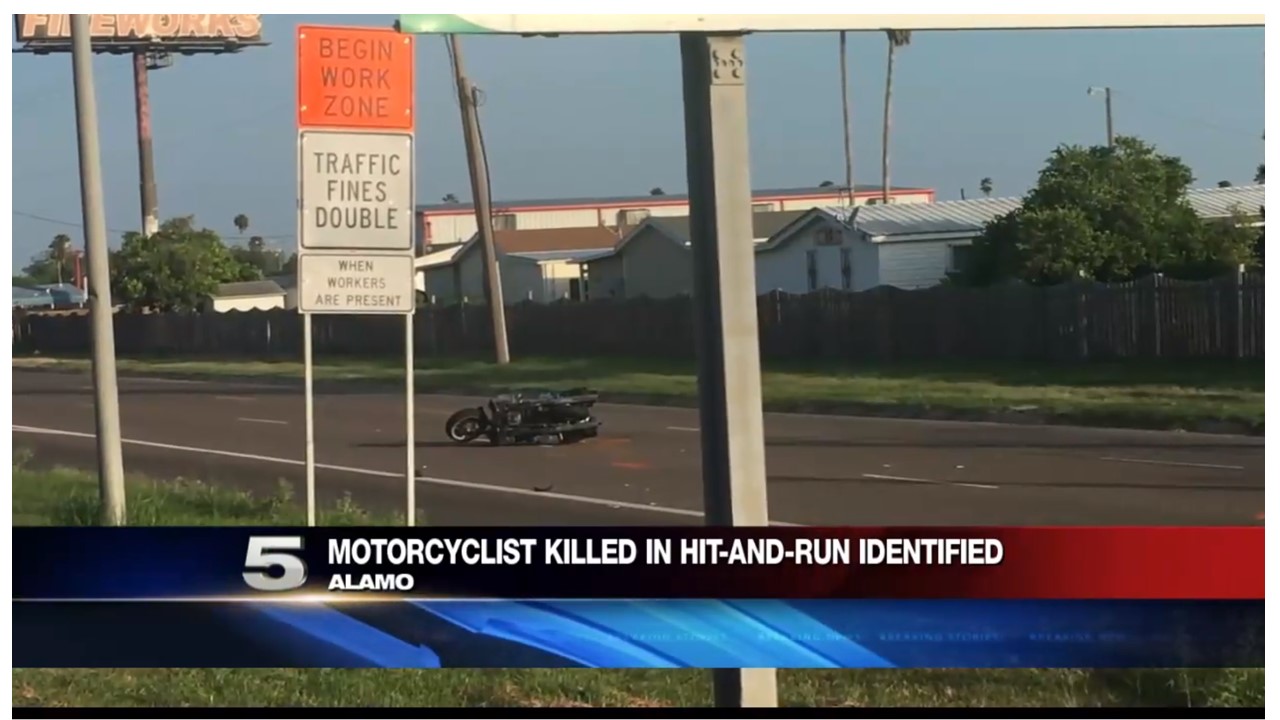 On Sunday morning July 21, a 46-year-old motorcyclist was involved in a hit-and-run crash and was killed. This accident occurred along westbound I-2 Frontage Road between Alamo and Cesar Chavez. 
Authorities have yet to release any details on the vehicle that hit the motorcyclist at this time, leaving no answer to how or why this accident occurred or if the driver of the vehicle was texting and driving or under the influence.
Facts/Causes of Fatal Accidents 
Driving recklessly when intoxicated or using a cell phone can cause serious consequences that not only you suffer from, but anybody else that is involved as well. 
According to the Texas Department of Transportation (TxDOT), more than 3,727 people were killed on roadways in 2017, where 499 of those victims were motorcyclists. Most of these motorcyclist deaths (51 percent) were attributed to not wearing safety helmets at the time of the crash.
However, distracted driving is also a major cause of fatal accidents among all motorists. Some common causes of distracted driving accidents include: 
Driver fatigue

Driving drunk, on drugs, or both

Speeding and other forms of aggressive driving
Laws About Wrongful Death & Who Can File a Claim
There are two types of damages that a victim of an accident can recover: compensatory damages and exemplary damages. The first covers injuries and damages, whereas the second is punishment for the defendant in an effort to help prevent more reckless behavior.
If a loved one involved in an accident with a distracted driver perished from his or her injuries, a wrongful death claim can be filed by surviving family members. In Texas, the law states that the following is recoverable by those who file a wrongful death claim:
Loss of Consortium:

This refers to the loss of company and affection that stems from a marriage. It also covers children's loss of parental guidance and emotional support if their parent(s) fell victim to a distracted driving accident.

Loss of Inheritance:

This applies to the possessions the victim would have acquired and left to their loved ones if they were still alive. 

Mental Anguish:

Emotional pain, mental torment, and suffering you and your family experience over the death of your loved one.

Pecuniary Damages:

This covers any damages that carry a measurable monetary value. Medical bills resulting from the accident, property damage repairs, or a loss of the decedent's wages are mainly what is focused under this category. 
Car Accident Attorneys Fighting For What's Right
It's difficult for family members to know what to do after a death; however, if you don't file a lawsuit before the statute of limitations expires within two years after the death of your loved one, you'll forfeit your right to seek compensation. 
It's best to have a car accident attorney to help guide you and your family through this difficult time. Insurance adjusters can be tricky and will offer you a fast and low-ball settlement. An experienced car accident attorney from J. Gonzalez Injury Attorneys, however, will help you not make the mistake of accepting anything less.
If you or a loved one were involved in a car accident then contact J. Gonzalez Injury Attorneys today at (956) 630-6700  to get the compensation you and your family deserve.
Source: KRGV