Man Dead After Rural Hidalgo County Head-On Collision
by Amber Cortez | September 25th, 2020 | Auto Accident, Recent News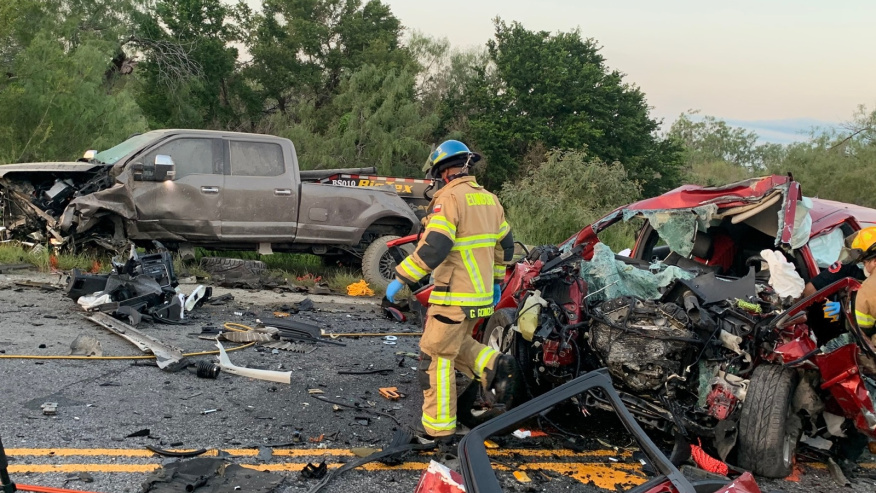 On Thursday, September 24th, a severe head-on collision took the life of a 55-Year-Old McAllen resident and injured two other individuals.
Details About the Incident
According to local authorities, the accident occurred on FM 490 & Wallace Road, northwest of Edinburg in rural Hidalgo County. A 55-year-old McAllen resident was operating a maroon Dodge SUV when he veered into FM 490 and ultimately struck a brown Ford pickup truck.
The driver of the Dodge was pronounced dead at the scene, and the two individuals that were injured inside the Ford were rushed to the nearest hospital. The current state of the two individuals that were injured are unknown at this time.
Details are still limited at this time, and local officials are still investigating the incident.
A Brief Overview of Texas Head-On Collisions and Rural Accidents
Head-on collisions are known to be one of the most lethal types of motor vehicle accidents due to how–and where–their impact occurs. When two vehicles collide with each other's front end, devastating end results to the vehicle and to the victim's body are a common result.
In fact in 2019, head-on collisions took the lives of approximately 600 individuals across the entire state of Texas. Additionally in that same year, approximately 51.69% of all traffic-related fatalities in Texas occurred within the state's rural areas.
What To Do In The Event of A Car Accident
While we never imagine finding ourselves involved in any kind of car accident, these events can strike at any given time when you least expect them. In short, they are a very stressful, confusing, and perhaps painful situation, but it is crucial to take the following tips into account if you wish to pursue legal action against a negligent party that caused your car accident:
Check yourself and your passengers for any significant injuries: When involved in a car accident, it is crucial to make sure you and your passengers are okay. If someone in your vehicle did in fact suffer an injury, it is vital to contact 911 and seek medical attention as soon as possible.
Inform the authorities: Contact 911 and inform them of the exact time and place in which the accident occurred. When speaking to the police, it is important to remain calm and vigilant in order for them to gather the information as clearly as possible.
Collect any important evidence you can, including:

Any photographs and video footage regarding the accident that explicitly show the scene of the car accident, any significant injuries sustained by you and/or passengers, vehicle damages, notable street signs, and traffic lights. Only collect these if you can do so safely.
Essential information from the at-fault party, including their full name, phone number, insurance information, vehicle make, and license plate number.
The police and incident report once it becomes available.
Any medical receipts, proof of rehabilitation, medication prescribed, and hospital bills given.

Contact an experienced car accident attorney: The experienced car accident lawyers of J. Gonzalez Injury Attorneys can help you file a personal injury claim. Be sure to check in with us as soon as possible, as the statute of limitations for these kinds of claims is two years from the date of the car crash.
Seeking Justice Is One Consultation Away!
When an unexpected tragedy shakes your life down to its roots, seeking the recovery you need in order to get your life back on track starts with just one consultation.
The McAllen car accident attorneys of J. Gonzalez Injury Attorneys can help victims of car accidents fight for the financial relief they deserve for the pain and suffering they have endured through no fault of their own.
Don't let the pain of a head-on collision keep you from seeking civil justice. Contact J. Gonzalez Injury Attorneys today!
Source: Valley Central