Rollover in Harlingen Under Investigation by Authorities
by J. Gonzalez Injury Attorneys | July 9th, 2018 | Auto Accident, News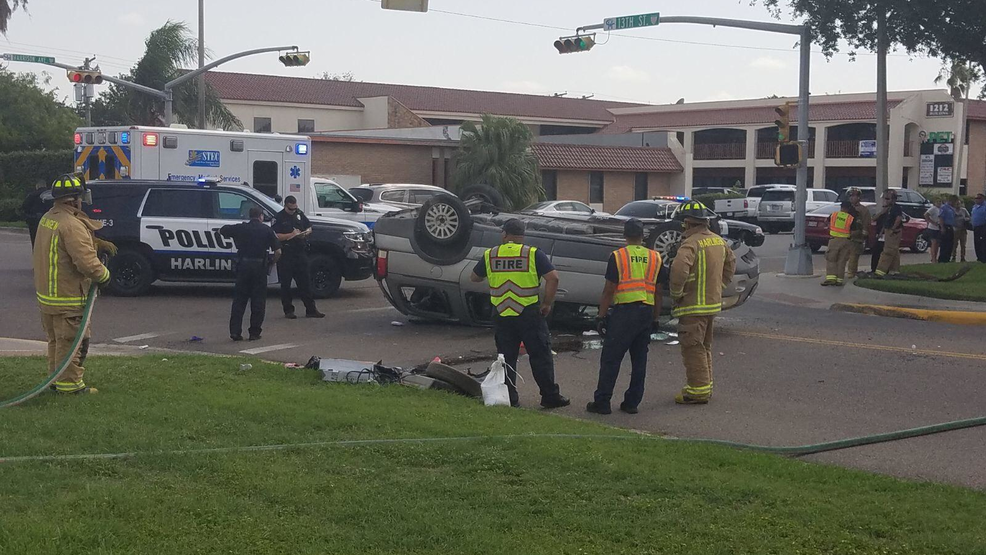 On July 2nd authorities were called out to a rollover accident in Harlingen.
Details are Limited at this Time
It was reported by Valley Central news that the accident occurred on the intersection of 13th Street and Harrison Ave., and involved a silver Montana minivan and a red Ford Fusion.
It is unknown what, if any, injuries were sustained by either party.
Rollover Statistics
According to SafeCar.gov:
Rollovers have a higher fatality rate than most other kinds of car crashes.
Rollovers account for nearly 35 percent of all deaths from passenger car crashes.
In the majority of instances where there is a fatality, around 69 percent, the victim was not wearing a seat belt.
How Rollovers Happen
A rollover can easily happen regardless of the vehicle you are driving. Of course, vehicles that are taller and narrower — like SUVs and pickup trucks — have a greater risk of rolling over. That is because they have a higher center of gravity, leaving them top-heavy.
One of the most frequent ways a rollover occurs is when a vehicle rounds a curve. Forces from the sides of the vehicle can shift its center of gravity to one side, throwing it off balance. The same can occur when someone takes a sharp turn and overcorrects.
9 times out of 10, however, a single-vehicle rollover isn't caused by poor steering. Usually, they happen when a vehicle "trips" over something like a guardrail, pothole, curb, or a soft roadside shoulder.
How to Protect Yourself From a Rollover
There are several ways that can greatly increase your odds of walking away from a rollover accident, and they are:
Wear a Seatbelt – This safety device prevents you from being ejected out of the vehicle. This is important as nearly three-quarters of people ejected from a vehicle perish.
Check Your Tires – Ensure that your tires have a healthy shape to them, have the right amount of pressure, and are properly inflated as recommended by the vehicle manufacturer. Check your tires at least once a month, and if you change out your tires, make sure they are similar to the vehicle's original set.
Don't Overload Your Vehicle – The more weight you add to your vehicle—especially pickups and SUVs—the greater the risk you face of a rollover. More weight destabilizes your vehicle. You will want to adhere to the load ratings that are specified within the owner's manual of your vehicle and keep all heavy loads off of the roof. Remember, taller vehicles are more susceptible to rolling over. Keep your cargo as low as possible, away from the tailgate, and as close to the center of your vehicle as possible.
Watch How Fast You're Going – Speeding substantially increases a vehicle's risk of rolling over. Around 40 percent of rollovers occur because the driver is speeding, so watch how fast you are going.
Take Extra Caution on Country Roads– Approximately three-quarters of fatal rollovers occur in rural areas where the speed limit can exceed over 55 miles per hour. It would do you well to watch your speed, especially in the Rio Grande Valley where there are plenty of country roads.
Have you been involved in a rollover accident and need strong representation to fight for your rightful compensation. Contact the J. Gonzalez Injury Attorneys today!
Rollover accidents, even a single-vehicle rollover accident, may not be your fault. If you have suffered grievous injury or lost a loved one because of a rollover accident, you may qualify for compensation.
Let the car accident attorneys at J. Gonzalez Injury Attorneys evaluate your case. Contact us at any of our locations in McAllen, Brownsville, or Rio Grande City for your free legal consultation today.
Image and information pulled from valleycentral.com.