The Search for a Hit-and-Run Suspect Continues
by J. Gonzalez Injury Attorneys | August 29th, 2018 | Auto Accident, News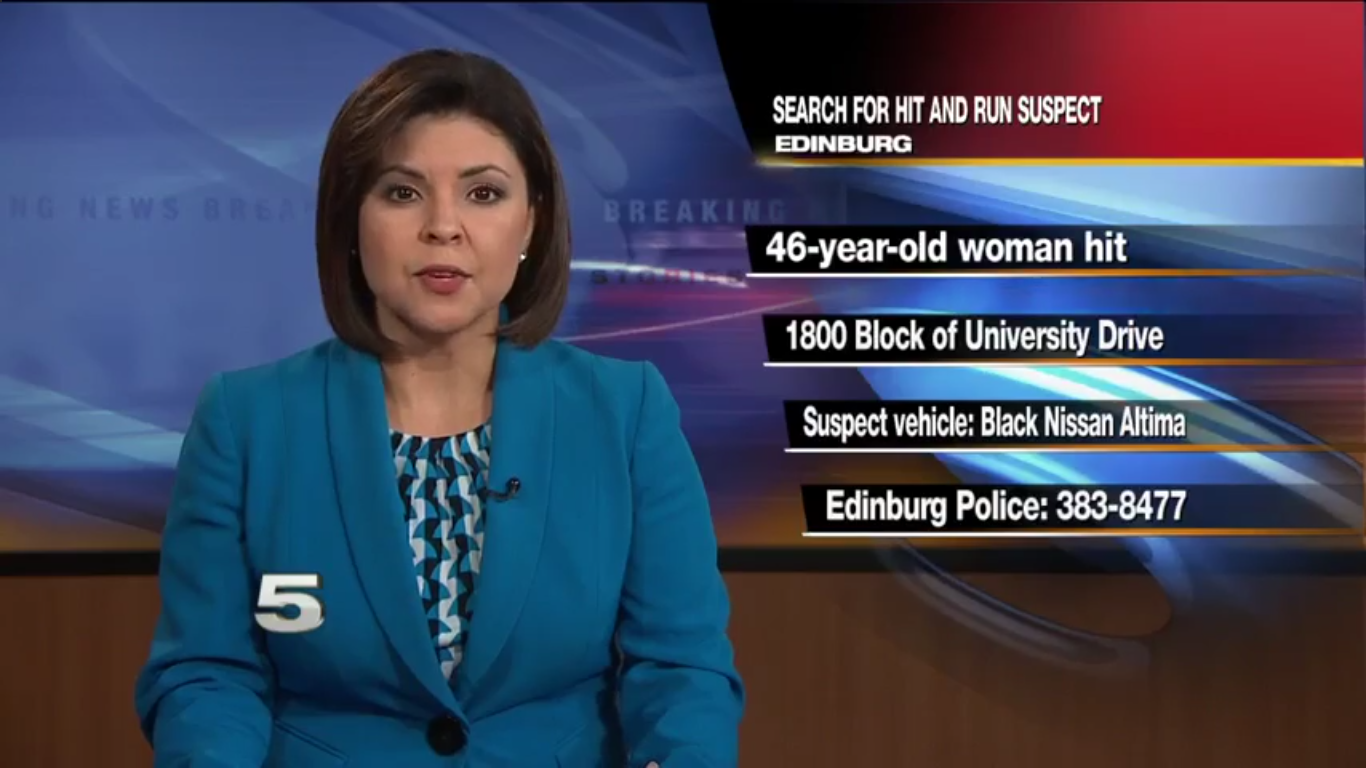 Authorities in Edinburg are looking for a driver responsible for a hit-and-run that occurred Monday night.
Details of the Incident
On the night of Monday, August 27, a woman was struck by a black four-door Nissan Altima on University Drive. Fortunately, the victim of the hit-and-run only suffered minor injuries.
The search continues for the driver responsible. In Texas, a hit-and-run can be considered a third-degree felony.
Hit-And-Runs and Texas Law
In order to ensure that everyone traveling on Texas' roads is provided aid and safety when they need it most, legislators have passed a number of laws that are designed to keep those involved in car accidents at (or near) the scene of the incident.
In particular, § 550.021 requires that everyone involved in a car accident that resulted in the injury or death of another party is responsible for:
Stopping the vehicle at the scene of the accident—or as near as possible— without obstructing traffic as much as possible.
Staying at the scene of the accident until further instruction from authorities.
Returning to the scene of the accident if you didn't initially stop.
In cases where damage was caused to a vehicle, § 550.022 requires drivers involved to:
Stop at, or nearby, the location where the accident took place, taking caution to not impede traffic.
Remain there until instructed otherwise or other requirements have been met.
Failure to stop immediately after a car accident carries with it penalties such as:
In car accidents that involve serious injury or death, a felony of the third-degree may be applicable. Under § 12.34, imprisonment from two and up to 10 years with a fine up to $10,000, is a real possibility.
In other cases where a hit-and-run driver fails to stop after harming another driver, they can expect a prison sentence up to five years, or a county jail sentence up to one year and/or a fine that doesn't exceed $5,000.
For those who fail to stop after damaging property— like a parked car, for instance — that doesn't exceed $200 in damage, a Class C misdemeanor is applicable, resulting in a fine up to $500. For damages greater than $200, a Class B misdemeanor may be applicable, meaning a hit-and-run driver may be fined no more than $2,000 and/or serve a jail sentence up to 180 days.
What You Can Do If You Have Been In a Hit-And-Run Car Accident
There are certainly legal challenges that come with being involved in a hit-and-run accident, but one of the most important steps that you can do is to try to remember as many details of the incident as possible. Ask yourself:
Did you see or can you remember what the license plate number was?
What kind of condition was the hit-and-run driver's car in?
Were you able to interact at all with the driver? What condition were they in?
What color was the car that caused the accident?
Was it a newer model or older?
Did the car have anything noticeable about it, such as a bumper sticker or color that made it stand out?
Was the car speeding? (Police may be able to check stoplights that have a camera.)
Were there any nearby stores or businesses that have video cameras?
Finding answers to these questions can help pinpoint who is responsible for your hit-and-run car accident. It is in your own best interest to answer these questions and write down notes as soon after the accident as possible. Your memory of events may change or become foggier with time so get this information down immediately.
It is also important for your investigation to share any of this information with the police and your car accident attorney.
You will also want to get in contact with your insurance company to file a claim. Even if you don't have any information regarding the other driver, it may be possible that you have underinsured coverage which can potentially cover some damage or medical expenses.
According to the American Automobile Association Study, Hit-And-Runs Have Increased in the United States at an Average of 7.2 Percent Per Year Since 2009. Don't Become Another Silent Statistic.
Just because you've fallen victim to a hit-and-run doesn't mean all hope for some sort of relief is out of reach. You are due compensation for your traumatic experience.
At J. Gonzalez Injury Attorneys, it is our duty to ensure that you get the justice you deserve. If you've been involved in a hit-and-run, enlist the aid of our expert car accident attorneys to ease your worries. We'll fight to get the compensation you need to get you back up on your feet.
Contact us at any of our McAllen, Brownsville, and Rio Grande City locations for your free legal consultation today.
Image and information pulled from krgv.com.