Wrong-Way Driver Loses Life, Injures 3 Others
by J. Gonzalez Injury Attorneys | June 10th, 2021 | Auto Accident, Negligence, Wrongful Death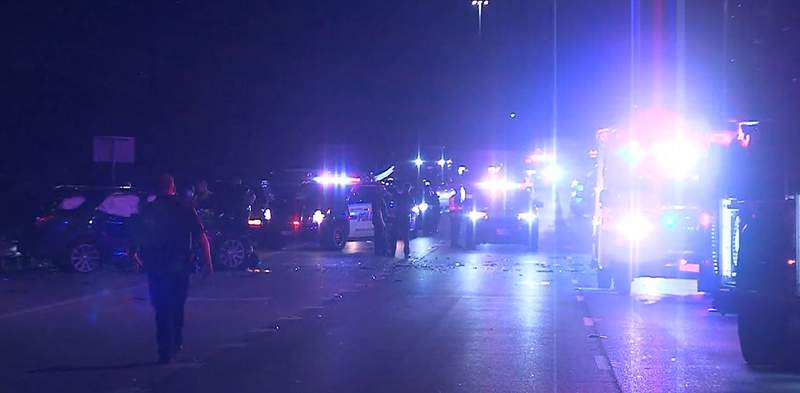 A wrong-way driver caused a head-on collision on I-37 in San Antonio on Sunday, June 6th. The incident left a family of three hospitalized and the wrong-way driver dead. 
Details About the Car Accident in San Antonio
According to San Antonio police, the crash took place at around 12:30 a.m. on the 9000 block of I-37. 
The wrong-way driver was traveling in the wrong direction in the southbound lanes of the interstate when they hit another vehicle head-on that was carrying a family of three, including a father, mother, and their teenage son. 
The wrong-way driver was pronounced dead at the scene, while the family of three were taken to Brooke Army Military Center in serious condition. 
I-37 was shut down for several hours as police investigated the car accident. 
About Wrong-Way Car Accidents in Texas
Texas is one of the leading states for wrong-way accidents. TxDOT has reported that within a four-year span, there were more than 3,300 wrong-way crashes causing 271 deaths.
Research shows that many of these accidents occur because of drivers under the influence of alcohol. In fact, The National Transportation Board (NTSB) revealed that in about 69 percent of fatal wrong-way accidents, alcohol was a prevailing factor.
 69% of fatal wrong-way accidents involve impaired driving. #dontdrinkanddrive
Most collisions involving wrong-way driving occur between midnight and 3:00 A.M., which many studies have linked to when people begin leaving bars. NTSB also reported that about 57 percent of these accidents occur on the weekend. 
While driving impaired, people become disoriented and cannot function as they normally would. A current study found that intoxicated drivers often get tunnel vision, focusing on the road in front of them, and not paying attention to road signs.
However, alcohol isn't always the cause, there are also indications that age can be a contributing factor. NTSB showed that drivers over the age of 70 are responsible for around 15 percent of wrong-way accidents. This may be due to difficulty seeing signage and vision problems that occur because of age.
Additional factors that can contribute to a wrong-way driving accident include: 
Distracted driving

Poorly marked ramps

Unfamiliar roadways

Poorly designed ramps

Lack of visibility

Insufficient signage

Drowsy driving

Drivers experiencing a mental health crisis
Preventing Wrong-Way Driving Crashes
The Texas Department of Transportation along with the Texas Transportation Institute teamed up several years ago to analyze years of accident data to garner a better understanding of why drivers end up on the wrong side of the road.
They concluded that wrong-way crashes are often linked to exit ramps on the left side of freeways. It was recommended to cease the construction of such ramps and that any existing left side ramps should be retrofitted with reflective pavement arrows pointing in the correct direction of the flow of traffic.
Other preventative measures have included an increased awareness of the consequences of driving under the influence. Texas has had several campaigns to increase awareness including Faces of Drunk Driving, holiday campaigns, and many more.
While wrong-way driving can never be completely prevented, we all need to be aware while on the road. If you see another driver going the wrong way contact 911 immediately! 
You can save a life.
If you've been involved in a wrong-way driving car accident in the Rio Grande Valley, contact the McAllen car accident lawyers at J. Gonzalez Injury Attorneys today for help making a case or claim. You only pay if we win!
Source: KSAT