18-Wheeler Accident Causes Highway Shutdown
by Abigail Vela | September 15th, 2021 | Auto Accident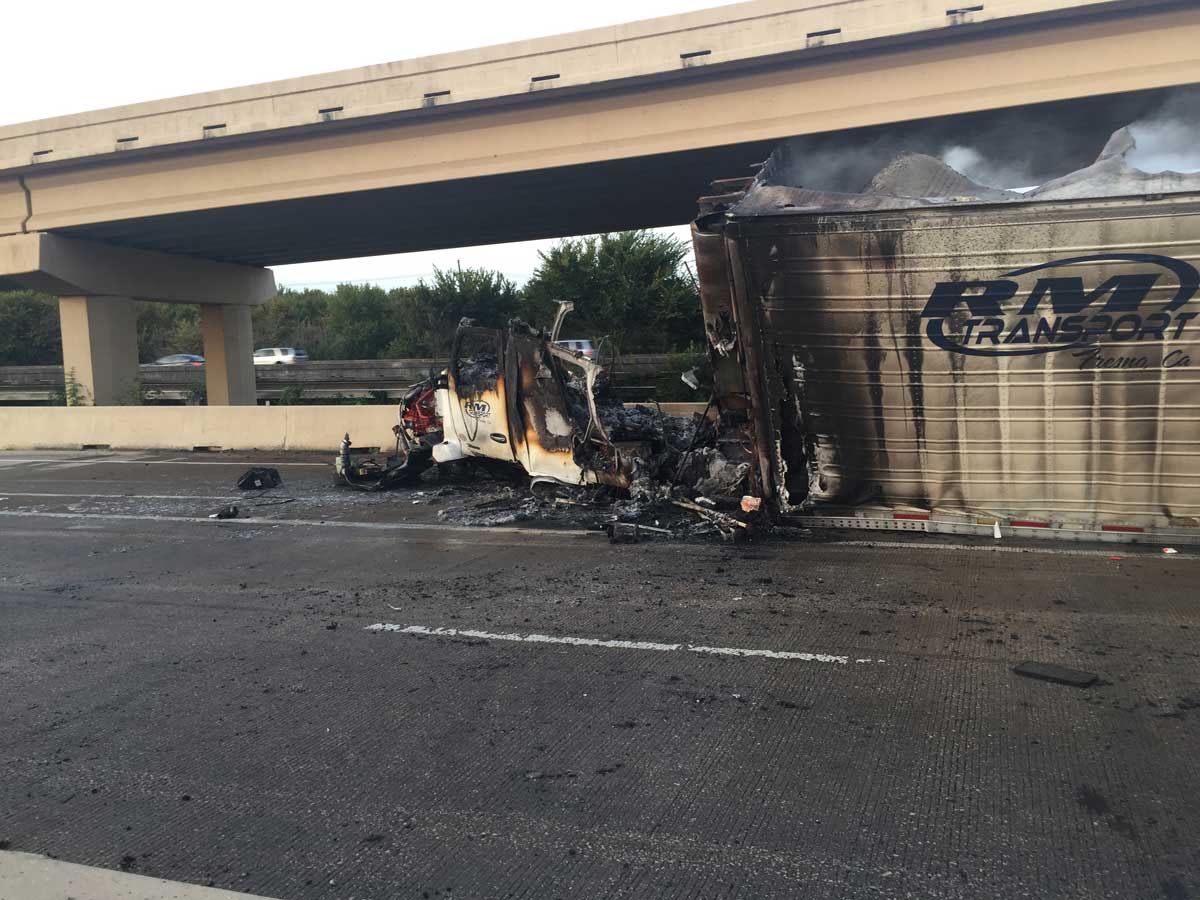 Early Tuesday morning, September 14, an 18-wheeler crashed against a jersey wall, causing a fire and highway shutdown on Interstate 35 in Lewisville, Texas.
Further Details About 18-Wheeler Accident
As reported by the Lewisville Fire Department and city official, Matt Martucci, the 18-wheeler hit a barrier wall around 5 a.m. The accident occurred near the President George Bush Turnpike exit at 3000 S I-35.
The crash caused a fire and debris was scattered all throughout the highway and exit ramp. The Lewisville Fire Department put out the fire by around 9:40 a.m., leaving the hazmat crews to clean the debris and fuel all through the early afternoon.
It was reported that they were almost finished with the clean-up around 11:40 a.m.
The highway was closed to traffic until slowly reopening at around 11 a.m.
The heavy impact of the 18-wheeler caused the axles of the truck and trailer to be sheared off. The condition of the driver is unknown, but no further accidents or fatalities were reported at the scene.
Top Statistics on 18-Wheeler Accidents
According to the @NHTSAgov, Texas had the highest number of fatal crashes caused by large trucks. Paying attention to the big rigs on the road will help prevent accidents from occurring on our highways and roads. via @TopLawyerRGV…
Click To Tweet
In 2019, the National Highway Traffic Safety Administration (NHTSA) reported some startling statistics regarding vehicle accidents with large trucks in Texas, of which the most startling include:
658: the highest number of large trucks involved in fatal crashes in Texas, compared to the rest of the nation.
146: the highest number of occupants of large trucks killed in Texas.
433: the number of occupants of other vehicles killed in Texas from large truck accidents.
73: The highest number of nonoccupants (bicyclists, pedestrians, etc.) killed in large-truck crashes in Texas.
Your Brownsville Car Accident Lawyer Advises You To Pay Attention to the Road
Your Brownsville car accident lawyer, Jesse Gonzalez, is well aware of the fatal consequences that may occur due to an 18-wheeler accident. After all, the statistics do not lie. To best avoid these fatal collisions with an 18-wheeler, pay attention to the road, show respect to all the drivers around you, and give extra space when driving near a large truck or semi-trailer.
However, despite all the precautions that we take every day, accidents can still occur. If you or a loved one were injured in an accident involving an 18-wheeler, you may be entitled to financial compensation to help alleviate your recovery, both emotionally and financially.
Your devoted car accident lawyers in Brownsville at J. Gonzalez Injury Attorneys are committed to helping you recover from your catastrophic accidents. Contact us to find out how we may best help you with your car accident claim.
News Sources: @LewisvilleFire, The Dallas Morning News, WFFA