There are few things as intimidating to a driver than traveling beside a barreling 80,000 pound 18-wheeler. One small mistake by the truck driver can mean a serious accident – or worse. With commercial trucks often weighing 20-30 times as much as a passenger car, the likelihood of suffering a catastrophic injury is, unfortunately, very high.
The seasoned Rio Grande Valley truck accident lawyers at J. Gonzalez Injury Attorneys are well aware of how devastating a crash with an 18-wheeler or other large commercial vehicle can be. But there is hope.
Do NOT feel intimidated by large trucking companies and their disreputable legal team. Our truck accident attorneys have the knowledge and experience to handle your case quick and efficiently.
We are ready to hear your story. Contact us at (956) 275-3495 for a FREE case review.
Why You Need a Lawyer to Handle Your Semi-Truck Accident Claim
---
Truck accidents are substantially different from "regular" car accidents. Issues of causation, multiple parties being involved, and insurance policies can make commercial truck collisions extremely complicated to understand.
That's why it is so important that you seek out legal guidance from experienced commercial truck accident lawyers. At J. Gonzalez Injury Attorneys, we understand these major differences and can ensure that you obtain fair compensation for your pain and suffering.
Several factors that set commercial truck accidents apart from regular car accidents include:
Serious Injuries – Because of the sheer size of 18-wheelers, crashes tend to be much more severe and injuries much more serious. Life-altering injuries often take place in large truck accidents and so evidence for your claim must be effectively collected and thoroughly analyzed for value.
Major Property Damage – The damage caused by an 80,000-pound semi-truck colliding into a small passenger vehicle can be outstanding. Your vehicle is likely to be totaled or in a state of difficult repair.
Multiple Parties Involved – While it may seem that the driver of the semi-truck is solely to blame for your accident, the truth is that multiple parties may be partially responsible for the accident. Alongside the driver, the owner of the commercial truck, manufacturers involved in building the truck, and even inspectors may all be liable.
Complex Insurance Policies – Trucking companies often have multiple insurance policies, which can make securing the recovery that is owed to you challenging. Unfortunately, these insurance companies may also attempt to divert fault and push liability for the accident on you.
J. Gonzalez Injury Attorneys is the team of Rio Grande Valley truck accident attorneys you need to get the results you deserve. Contact us at (956) 275-3495 for a FREE case review.
Common Causes and Injuries of Semi-Truck Accidents
---
Our Rio Grande Valley personal injury attorneys can help determine the cause of your accident as well as uncover who the at-fault party is. Some of the common causes that can contribute to a semi-truck accident include but are not limited to:
Driver Error – A negligent driver may maneuver into the wrong lane, make an illegal U-turn, or go the wrong way down a street in an effort to save time. Distracted truck drivers using their cell phones or other electronic devices are also a cause for concern.
Equipment Failure – Tire blowouts, malfunctioning brakes, and other related part failures account for a large chunk of accidents involving large trucks.
Poor Truck Maintenance – Proper vehicle maintenance is essential to keeping 18-wheelers functioning properly and other drivers safe on the road. The Federal Motor Carrier Safety Administration (FMCSA) requires trucking companies to abide by certain maintenance standards, and when they fail, they put the safety of others at risk.
Improper Cargo Weight Distribution – If the cargo of the 18-wheeler has been improperly loaded or improperly secured, this can cause the trailer to become off balance, increasing the risk of a rollover.
Sudden Stops – One of the most dangerous positions for a passenger vehicle to be in is right in front of a semi-truck. If there is an emergency and you have to make a sudden stop, an 18-wheeler following closely can barrel into your rear end.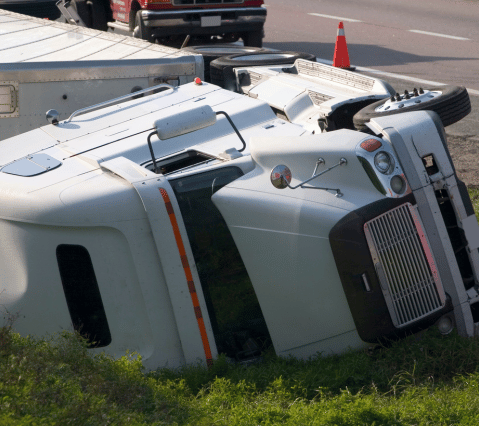 When loaded to capacity, 18-wheelers can weigh as much as 80,000 pounds. On the other hand, most traditional passenger vehicles weigh only 3,000 to 4,000 pounds. This difference in size creates a significant risk of severe injury or even death.Some of the most common injuries victims of truck accidents suffer include:
Cuts and lacerations
Burns
Broken bones
Neck and back injuries
Torso and rib injuries
Spinal cord injuries
Head and brain injuries
Internal injuries
Amputated limbs and extremities
Wrongful death
Being involved in a semi-truck accident can turn your life upside down. But there is hope at the end of the tunnel. Let J. Gonzalez Injury Attorneys deliver it.
Contact us at (956) 275-3495 for a FREE case review and to start on the path to recovery.
Types of Truck Accidents J. Gonzalez Injury Attorneys Handles
The Rio Grande Valley truck accident attorneys at J. Gonzalez Injury Attorneys have a wide range of experiences and capabilities to handle your unique case. We are able to pursue compensation for your claim if you have been involved in an accident involving:
A big rig, also known as a semi, semi-truck, tractor trailer, or an 18-wheeler.
Moving vans, which can include minivans or box trucks.
Delivery vans used by businesses to transport goods.
Flatbed trucks loaded with freight.
Tanker trucks carrying dangerous liquids and gases.
Fuel truck tankers.
Commercial work trucks such as cement mixer, dump trucks, and other construction vehicles.
Tow trucks.
Cargo trucks.
Garbage trucks.
Firetruck and other emergency vehicles
Discovering Who is Responsible for Your Accident
Getting the guidance of a qualified personal injury attorney is vital to developing a strong case. The dedicated team of truck accident lawyers at J. Gonzalez Injury Attorneys in Rio Grande Valley, McAllen, Weslaco, or Brownsville will work day and night to collect the evidence necessary to prove your claim.
We will get to work immediately securing and analyzing evidence that will include:
Your Vehicle – Your vehicle is going to be one of the strongest submissions of evidence in your claim. It is extremely imperative that it remains in the condition it was in after the accident occurred. Do NOT get your vehicle fixed during the claims process.
Inspection Reports – Inspections are important as they ensure that the commercial truck involved in the accident was in an operable condition. Missing an inspection can be considered negligence.
Maintenance Logs – Basic maintenance must be performed and reported before a commercial truck hits the road. If these records indicate that the truck was not in good shape, then this information can help to validate your claim.
Cargo Logs – Cargo logs indicate how much weight in cargo the commercial truck had while in transit. A semi-truck with a trailer carrying more cargo than it should places an excess burden on the brake system, which can lead to failure.
Alcohol and Drug Testing Results – Trucking companies may conduct random alcohol or drug tests to ensure that their drivers are driving sober. In most cases, the semi-truck driver may be tested AFTER an accident as well.
Any Other Important Information – This could be any particular information about the driver, the trucking company, and its protocols and procedures, or any additional information about the accident.
We don't expect your trust. We earn it. Contact us at (956) 275-3495 if you have been involved in an accident with a commercial truck.
Types of Compensation You Can Receive for Your Injuries
---
Our Rio Grande Valley truck accident attorneys understand how to build a successful case. Working with a team of legal specialists, medical professionals, crash reconstruction experts, and others, we can help to recover compensation for:
Medical damages (past, present, and future)
Lost wages and future earnings
Mental anguish
Pain and suffering
Loss of consortium
Out-of-pocket expenses
Punitive damages
Wrongful death damages
Should you, unfortunately, suffer the loss of a loved one as the result of a semi-truck accident, certain eligible family members may be able to recover compensation that includes:
Recovery for loss of wages and future earnings of the decedent
Recovery for loss of benefits of the deceased
Recovery for loss of companionship
Recovery for mental anguish
Recovery of punitive damages
Recovery for medical expenses
Compensation for funeral expenses
Recovery for pain and suffering
Recovery for loss of consortium
Please be aware that signing any forms or accepting a settlement from the responsible party's insurer before filing a wrongful death claim may release the responsible party from future liability.
Experienced Truck Accident Attorneys When You Need Us Most
Don't put your hands in the life of just any law firm. With millions of dollars recovered for our clients, trust that J. Gonzalez Injury Attorneys know how to get the job done right.
Contact us right now at (956) 275-3495 for a FREE case evaluation.
YOU ONLY PAY WHEN WE WIN!