When a loved one passes away because of an accident caused by a negligent party, you and your family can be impacted in a number of ways. This can include emotional and mental anguish, financial predicaments, and pain and suffering.
Although criminal charges against the negligent party are to be decided by the investigation and conclusions drawn by authorities, the family of the victim of a wrongful death can pursue a civil claim or lawsuit.
Seeking consultation from knowledgeable and empathetic wrongful death lawyers at J. Gonzalez Law Firm lawyers can help you to understand your legal options and pursue available compensation.
Despite the fact that nothing can replace the presence of your loved one, financial compensation can work to alleviate expenses and losses that result from the unfortunate circumstances.
For a free consultation, call our Rio Grande Valley wrongful death lawyers (956) 420-7328
now.
What is Wrongful Death?
As per Texas Statutes section 71.001, a family member can pursue wrongful death claim if an individual exhibited "a wrongful act, neglect, carelessness, skillfulness, or default," relating to the death of their loved one.
Common Causes of Wrongful Death Can Include:
1.-Motor Vehicle Accidents
2.-Motorcycle Accidents
3.-Medical Malpractice
Misdiagnosis
Birth Injuries
Mistreatment in Hospital
Surgery Mishap
Defective Medical Technology
4.-Bicycle Accidents
5.-Workplace Accidents
6.-Commercial Vehicle Accidents
7.-Defective Products
Automobiles
Car seats
Toys
Machinery
Tools
Pharmaceuticals
8.-Construction Accidents
9.-Pedestrian Accidents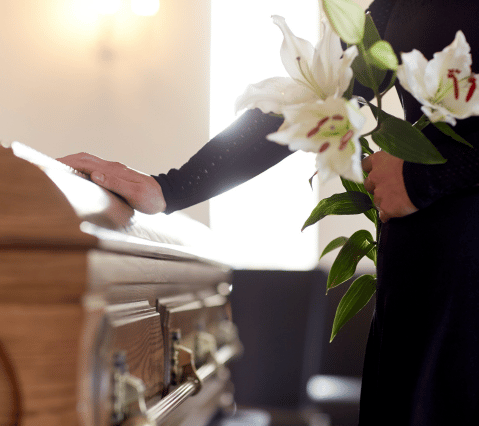 In some cases, it can be quite obvious if the death of an individual was in part of negligence or wrongdoing such as if the individual who caused an accident participated in drunk driving. Defining wrongful death can easily become complex if there is no evident negligence present.
If your loved one has suffered a death due to an non-natural cause, consult a legal expert to pursue necessary evidence that determines liability through negligence immediately.
The lawyers at J. Gonzalez Law Firm are prepared to assist you in diligent investigation, provide comforting reassurance, and further inform you of your rights in a wrongful death case.
Possible Culprits of Wrongful Death
Families and financial dependents can pursue compensation from the parties liable for their loved ones' death upon the basis of negligence. Common liable parties include negligent companies, agencies, or employees that imposed harm or intentional conduct against the victim.
Depending on what type of accident the victim suffered, the source of pursuing compensation can vary. For example, in accidents related to drunk driving or faulty roadways, defendants aside from parties involved in the crash can include:
At-fault driver or Employer of Commercial Vehicles
Distributor of alcohol that impaired driver
Manufacturers of a defective vehicle or auto part
Developer or constructor of faulty road
Agency that failed to establish adequate roadway hazard signs
In some situations, it can be difficult to hold a government agency liable for negligence. However, in any case, it is best to consult a well-seasoned attorney that can make an informed analysis towards whether your claim stands as a strong wrongful death claim.
Call the J. Gonzalez Personal Injury Lawyers today at (956) 420-7328
.
Who Can File a Wrongful Death Claim?
In the state of Texas, surviving parents, children, and the spouse of the deceased have the ability to file a wrongful death claim. The parties may file individually or jointly.
If the familiar parties do not file within three months of the victim's passing, a representative of the state can file the claim, unless the family does not allow.
Adopted children may also file for their adoptive parents, but they cannot file for a biological parent that was not present in their life. In Texas, siblings both by blood or adoption, do not have access to file a wrongful death claim on behalf of the deceased.
As for the filing process, surviving immediate family members or a representative can pursue a wrongful death claim for monetary expenses and losses as a result of the death of their loved one. Criminal charges are separated and dependent upon the decision of the authorities, but a civil claim can be made regardless is criminal charges are filed.
Loved Ones Can Seek Compensation for the Following:
Medical Bills
Punitive Damages
Loss of Companionship
Pain and Suffering
Punitive Damages
To see you eligibility of success in a wrongful death claim of a loved one, contact J. Gonzalez wrongful death attorneys as soon as possible.
Construction accidents
Car/motorcycle accidents
Trucking/commercial vehicle accidents
Work-related accidents
A death caused by a negligent act is reason enough for a lawsuit to help the families of a victim make their way back to normality. At the J. Gonzalez Injury Attorneys, we'll evaluate the circumstances surrounding the accident to create the most effective plan of action.
Collectable Damages In Wrongful Death Claims
Surviving family members or representative of the victims estate can pursue compensation from their losses that result directly from the death of their loved ones. Damages pursued are meant to alleviate mental and emotional anguish, financial disparity, and pain and suffering.
Damages can include any of the following:
Loss of household income, earning capacity, and wages
Loss of support, care, services, maintenance and other elements of their relation to that person
Mental and emotional distress
Pain and Suffering
Loss of emotional tie such as love, companionship, or comfort
Loss of inheritance
Exemplary claims are sometimes awarded in a wrongful death case, but these are not awarded to the family members. Gross negligence or other misconduct can be sought as 'punitive damages'. Punitive damages are fees meant to punish the wrongdoer as an attempt to reprimand their behavior and acts of negligence.
Medical bills
Funerary fees
Loss of companionship
Pain and suffering
Punitive damages
There are three types of damages that can be pursued:
1.-Economic
These damages are based on the monetary contributions of the victim that will be lost due to their wrongful death or other expenses resulting from the death. These other expenses can be the medical bills or funeral costs.
A family can suffer instability due to loss of household income. Family members should save receipts, pay stubs, and provide bills to the attorney in order to prove a disparity in money given the absence and lack of support once provided by their loved one.
2.-Non-economic
These types of damages may be harder to prove, but can be just as valuable or even more so. Non-economic damages can include that of emotional and mental suffering that get in the way of everyday life. It may also regard loss of services, emotional support, life guidance, care and protection.
You can see why it is difficult to quantify these loses, nonetheless, they are a huge impact resulting from the death of a relative. Loss of emotional connection or loss of consortium of a spouse can also be considered for compensation.
Overall, these damages are for a reduced fufillment or enjoyment of life, including connections and relationships.
3.-Punitive
As mentioned previously, these damages are granted to punish the negligent party and are often the result of bad conduct or intentional harm to the individual that passed.
Texas Laws Regarding Wrongful Death
In Texas, wrongful death claims can be pursued under the conditions of a "wrongful act, neglect, carelessness, skillfulness, or default," as per the Texas Statutes section 71.001.
Texas holds a strict statute of limitations to personal injury claims, including wrongful death. Family members are allotted a 2-year statute of limitations period to file a wrongful death claim from the date of death.
Certain exceptions to the two-year period do exist, including if the parent of a child dies before they are 18. The statute of limitations would then begin after they are considered an 'adult' by the date of their 18th birthday.
Another exception to the two-year statue is if it takes a while for negligence to be determined as a key factor in the causation of death. Then the two-year statute of limitations would commence upon the discovery of negligence or wrongful conduct.
Seek the legal expertise and years of litigation from J. Gonzalez attorneys at (956) 420-7328 now.
How Can the J. Gonzalez Wrongful Death Attorneys Help?
As statewide and nationally recognized lawyers, our services are sure to be satisfactory in bringing forth the justice and compensation you deserve. We are the Rio Grande Valley's number one source of all your personal injury claim needs.
Our team is very educated on state laws and personal injury procedures to assist you in a successful claim. The J. Gonzalez lawyers are compassionate and understand that every personal injury case is unique. We comprehend the physical, mental, and emotional distress that results from losing a loved one.
Although there is no replacement for the special role that the victim of wrongful death once held in your life, we hope to alleviate financial impact and hold negligent parties accountable for their wrongdoings.
We also provide defense against any negligent party and their insurance company that attempts to diminish or avoid payout by challenging the validity of your injuries, pain, and suffering. The J. Gonzalez wrongful death attorneys will provide our skill in litigation in the case that your claim advances to the court of law.
Have you lost a loved one to an act of negligence? Seek the knowledge and empathy of our experienced wrongful death attorneys. J. Gonzalez Law Firm aims to seek justice against negligent parties so that you may recuperate and better cope with the mental and emotional effects with necessary compensation.
Call our determined team of wrongful death attorneys in the Rio Grande Valley at (956) 420-7328 today to seek the means of recovery.