18-Wheeler Accident Near Alamo Shuts Down Expressway
by J. Gonzalez Injury Attorneys | March 3rd, 2020 | 18 Wheelers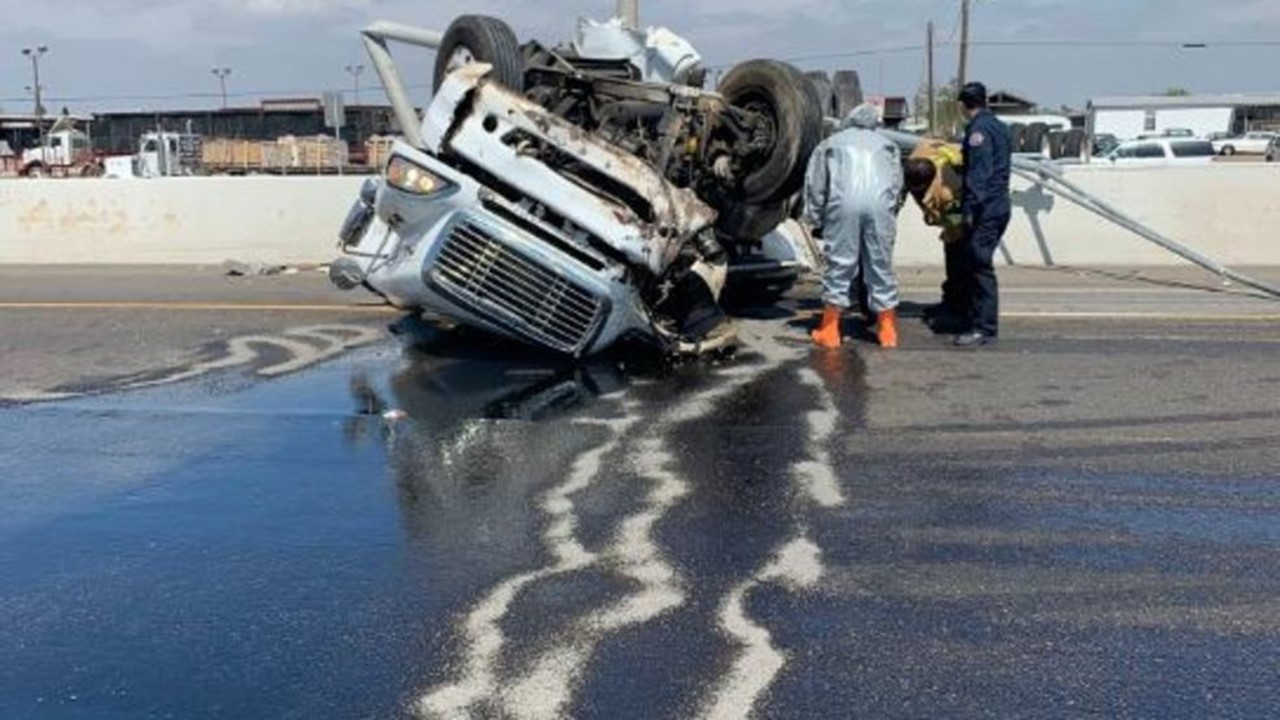 Image Source: Valley Central
On Monday, March 2nd, a serious 18-wheeler rollover accident occurred near Val Verde Road in Alamo, which led to both eastbound and westbound lanes on I-2 to shut down for several hours.
Details Regarding the Accident
The reasons as to why the 18-wheeler flipped over the median are still under investigation, but no injuries have been reported thus far.
The Texas Department of Transportation alerted incoming traffic to reroute elsewhere in order for the proper authorities to step onto the scene and remove the 18-wheeler from the expressway.
Shocking Large-Truck Accident Statistics You Should Know
Large truck accidents are known to be one of the most severe types of accidents due to their sheer size and weight. According to the Insurance Institute for Highway Safety (IIHS), the following large-truck accident statistics were reported for 2018:
Rollover accidents accounted for 45 percent of large truck occupant deaths.
33 percent of all large truck accident deaths occurred on major interstates and freeways.
Additionally, in a separate study conducted by the Federal Motor Carrier Safety Administration (FMCSA), it was reported that in 2017:
The majority of fatal (83 percent) and non-fatal (88 percent) of large truck accidents occurred on weekdays.
Out of 450,000 reported large truck crashes, there were 4,237 fatal accidents and 344,000 non-fatal injury accidents.
Most Common Factors That Can Lead Up To A Large Truck Accident
Weight and Size:

The larger and narrower a vehicle might be, the more of a risk they are in to put themselves in a potential rollover accident due to its higher center of gravity.

Road Conditions:

If a driver doesn't take the necessary precautions when navigating through severe weather or inadequate road design, accidents are more likely to occur.

Driver Fatigue:

Drivers may be in no condition to operate the vehicle as they are either too tired or have an illness that prevents them from having a clear mental state.

Distracted Driving:

Irresponsible actions that can be avoided such as texting and driving, excessive speeding, or driving under the influence of alcohol or controlled substances can lead to a deadly accident.

Manufacturing Defects/Company Negligence:

Truck drivers may not always be at fault. Manufacturers of the large trucks or truck parts can be held responsible if their parts were defective and caused the accident. Trucking companies that employ the driver can also be at fault if they didn't adequately train the driver or overworked him or her by rushing deliveries, ultimately leading to a catastrophic accident.
Rely on J. Gonzalez Injury Attorneys to Seek Civil Justice For Your Large Truck Injuries 
If you or a loved one has been involved in a serious large truck accident, do not hesitate to contact the McAllen car accident attorneys of J.Gonzalez Injury Attorneys as soon as you possibly can. It is crucial to inform victims that under the Texas statute of limitations, you have a window of only two (2) years to file a personal injury claim. If you wait to file your claim, you risk losing your eligibility to recover the financial compensation you need for your damages suffered.
 Contact the truck accident attorneys of J.Gonzalez Injury Attorneys today at any of our McAllen, Brownsville, or Rio Grande City locations to schedule a FREE no-obligation case evaluation.
Source: Valley Central, KRGV