A Tractor-Truck Rollover Sends One to the Hospital
by Amber Cortez | December 10th, 2018 | 18 Wheelers, News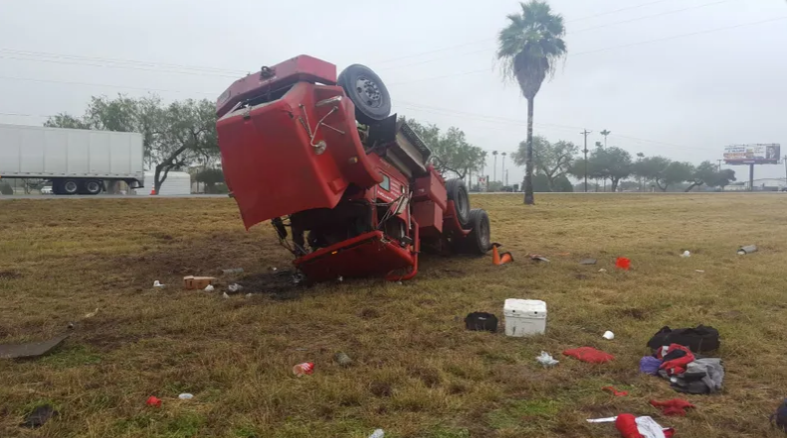 A Department of Public Safety investigation is underway regarding the rollover of a tractor-truck in San Manuel-Linn that took place on December 7th.
Details of the Incident
Authorities believe that the tractor-truck may have hydroplaned while traveling on Highway 281, just south of FM 1017. Traffic was limited to one lane on the northbound side because of the truck accident.
The driver of the commercial vehicle sustained minor injuries and was taken to the hospital for treatment.
What is Hydroplaning?
Hydroplaning occurs when a driver loses control of their vehicle — whether a car, truck, motorcycle, or semi-truck — because of wet roads. The loss of control occurs when the front tires of the vehicle fail to disperse water properly, putting pressure on the front wheels and creating a thin film of water that gets beneath the tire. This causes the tire to temporarily lose traction with the road and can lead to a driver losing control of their vehicle.
Hydroplaning makes braking, steering, or maintaining general control of the vehicle essentially impossible. This loss of control can lead to a collision with another vehicle, road sign, tree, or other road structures both on and off of the road.
How to Avoid Hydroplaning
In most cases, hydroplaning occurs when the vehicle is traveling over 35 miles per hour. To avoid hydroplaning and losing control of your vehicle:
Drive slowly in bad weather conditions
Turn off cruise control
Drive in a lower gear
Avoid sharp turns
Avoid suddenly braking
Driving in the tire tracks of the vehicle in front of you is a good practice to keep when driving on wet roads, and don't forget to:
Adhere to regular tune-ups and maintenance
Check your tires frequently, searching for damages, punctures, or under/over inflation
Rotate or replace your tires as necessary
Ensuring that your tires are in tip-top shape is your best bet to avoid hydroplaning, especially during the wet and cold Texas winter.
Receiving Compensation for Hydroplaning-Related Accident
While in most cases it may seem that the party at fault is the driver, that isn't necessarily the case. At times, hydroplaning may be the result of:
The Tire Manufacturer – Poorly manufactured or defective tires can turn a simple drive into a hydroplaning nightmare. If you can prove that your tires were defective or poorly manufactured, you may be able to seek compensation from the manufacturer.
The Agency Responsible for the Road – Potholes, cracks, and other dangerous road surface issues can make hydroplaning even more dangerous. Liability may fall on the government agency that was responsible for the road's upkeep if it was in poor condition.
Individual Responsible for Recent Repairs – Inadequate repairs to your vehicle may make your vehicle more susceptible to hydroplaning. This may be an avenue to explore if you suspect that recent repairs from a mechanic attributed to your car accident.
The Vehicle's Owner – The vehicle's owner may be held liable if anyone entrusted to drive their vehicle hydroplanes due to maintenance issues.
If any of the parties above contributed to your car accident, hire an experienced car accident attorney to fight for the compensation you need to properly recover from such a traumatic incident.
It isn't easy to collect damages from a hydroplaning car accident, simply because it can be a challenge to prove that it wasn't your fault. But with the help of an experienced car accident attorney, like the ones at J. Gonzalez Injury Attorneys, you stand a great chance.
Contact us at one of our McAllen, Brownsville, or Rio Grande City offices to set up your free legal consultation today.
Source: KRGV