Bexar County Accident Leaves Two Hospitalized
by J. Gonzalez Injury Attorneys | July 14th, 2021 | Auto Accident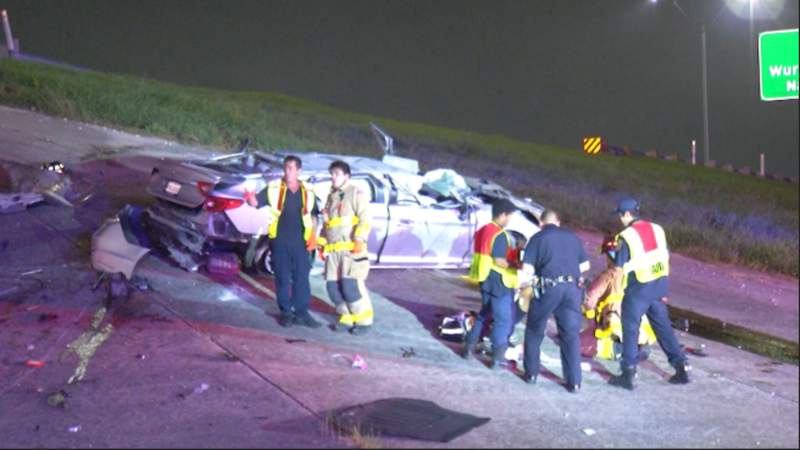 Two people were hospitalized after a rollover crash that took place on the morning of Monday, June 12th, in Bexar County.
Details About the Incident
San Antonio police were called to the 13600 block of U.S. Highway 281 North around 3 a.m. after a Hyundai Sonata drove off the highway and flipped over.
The 17-year-old driver and passenger were hospitalized following the rollover crash.
Police report that the occupants were traveling south on Highway 281 when they drove off the freeway for unknown reasons.
According to SAPD, the vehicle was north of the Bitters Road overpass when the driver drove through the median between the highway and the access road. Police believe that is when the sedan drove off the edge of an embankment on the north side of Bitters Road and rolled over.
Both occupants had their seatbelts fastened at the time of the incident and were taken to a nearby hospital in stable condition.
Fatalities Caused by Single-Vehicle Accidents Rose from 2019 to 2020
Incidents like this are considered single-vehicle accidents. Fortunately, for the motorists involved, no lives were lost — but that isn't always the case.
According to the Texas Department of Transportation, 205,498 persons were injured in motor vehicle traffic crashes in 2020.
Furthermore, single vehicle, run-off the road crashes resulted in 1,354 deaths in 2020. This figure represents an approximate 15% increase from the 1,172 deaths experienced on Texas roads in 2019.
What Causes Rollover Accidents?
Driver error is a significant factor in rollover accidents, according to the National Highway and Traffic Safety Administration. Other factors such as weather conditions can contribute to rollovers, but the majority of crashes are due to drivers overcompensating in emergency situations.
Factors that increase the odds of a rollover accident include:
Speeding: More often than not, excessive speeding is one of the main factors in fatal rollovers.
Driving While Impaired: Driving while impaired disrupts a driver's judgment and coordination. Almost half of all fatal rollovers involve a drunk driver.
Distracted Driving: Distracted drivers tend to make sudden/sharp maneuvers, which greatly increases their chances of rolling over.
Tall/Narrow Vehicles: Some vehicle types such as SUVs, pickups, and vans are more susceptible to rollover accidents than traditional sedans and compact cars due to their high center of gravity.
Country Roads: Country highways and rural roads tend to experience more rollover fatalities since they often lack the safety features available on more-frequented roadways.
Tire Failure: According to the National Highway Traffic Safety Administration (NHTSA), defective tires can lessen your ability to control a car and may result in single-vehicle crashes. Tire blowout and loss of tire tread are two of the most common causes of tire failure.
Despite driver error being a significant factor in rollover accidents, it's clear that many of the other contributing factors can be avoided by following the rules of the road and understanding how your vehicle operates.
Have you been involved in a rollover accident? Contact the Rio Grande Valley's top car accident lawyers at J. Gonzalez Injury Attorneys for a FREE no-obligation consultation!
Rollovers can often result in serious or catastrophic injuries even if the vehicle's occupants were wearing their seat belts at the time of the collision. The compassionate car accident lawyers at J. Gonzalez Injury Attorneys are ready to fight for you and promise a 100% client satisfaction guarantee.
Source: KSAT