Crash Takes the Life of a Man Over the Weekend
by Amber Cortez | September 27th, 2018 | Auto Accident, News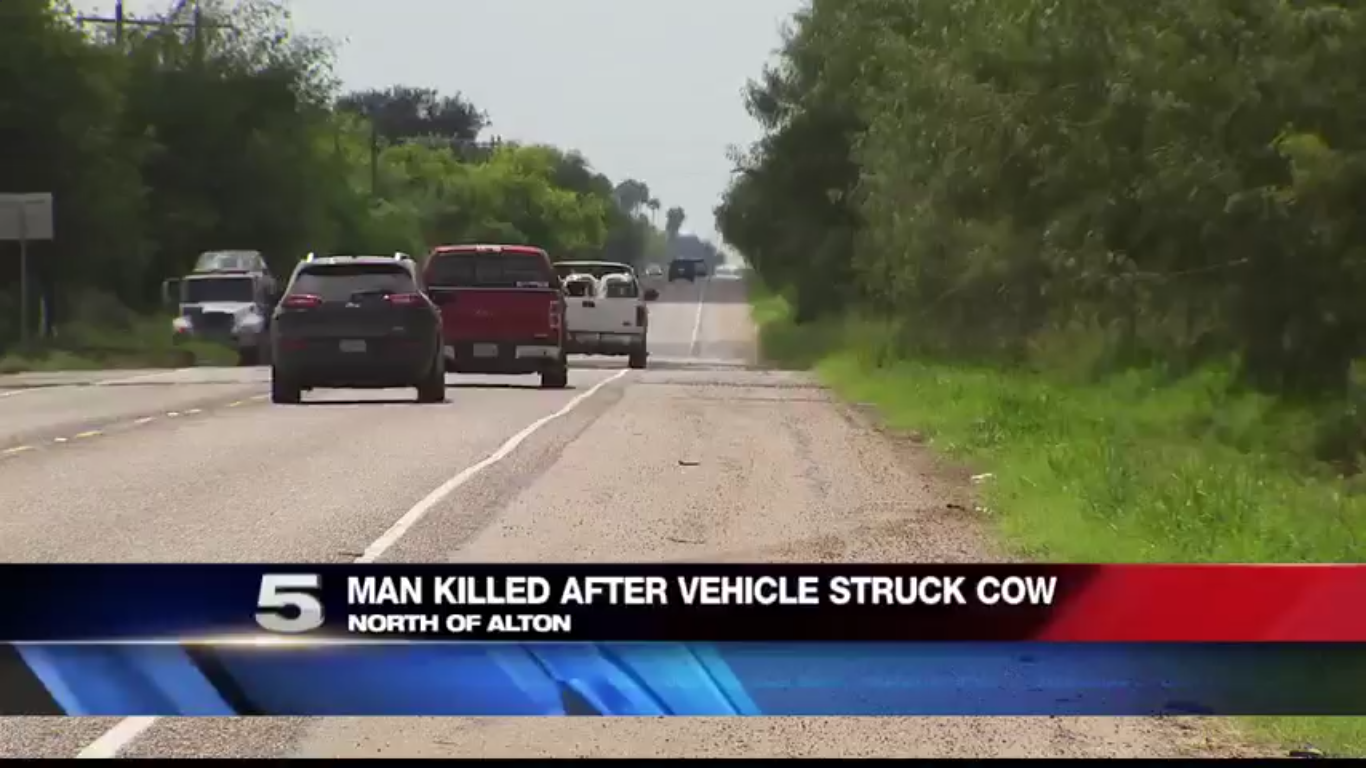 A Mission man lost his life over the weekend in a crash that happened north of Alton.
Details of the Accident
According to the Texas Department of Public Safety, the car accident occurred on 8 Mile Line and FM 2993 north of Alton just after 9:45 p.m., on September 23rd, when a Dodge Stratus—with three passengers—struck a cow that had wandered on to the road.
The vehicle struck the animal with enough force to cause one of the passengers – a 32-year-old man – to perish at the scene. The driver was taken to Mission Regional Hospital for treatment.
Authorities are continuing their investigation into the accident.
Vehicle-Animal Collision Statistics
Farmers Insurance, in their Fall 2017 digest, noted some important facts regarding vehicle-animal collisions:
Deer collisions are estimated to cause more than $1.1 billion in vehicle damage annually.
64% of Americans incorrectly believe that swerving or trying to stop before hitting an animal is the best way to protect themselves.
The three months of September, October, and November have the highest rates of animal collisions (34%).
In Texas, during these three months, 27% of accidents are caused by a collision with an animal.
According to the Insurance Institute for Highway Safety (IIHS) and Insurance Council of Texas:
More than 5,000 vehicle/animal crashes occur annually on Texas highways.
An average of 17 people are killed in these types of crashes.
Crashes with deer occur most frequently in rural areas.
Texas Stock Laws
Livestock are not permitted to roam unattended along a state or federal highway. However, livestock laws can vary from county to county:
Open Range County – In an open range county, property owners must construct and maintain fences to keep livestock off of their property. However, they wouldn't have to enclose their own livestock. Lastly, livestock are not allowed to roam without supervision along state or federal highways.
Closed Range County – With stock laws enabled in a county, it is a closed range county. Here, livestock owners must fence in their livestock, and if one of their livestock is struck by a car, depending on the circumstances, they may be held liable for damages.
If you are a landowner in a closed range county, you have a higher obligation to make sure that your livestock do not trespass on to highways. That means patching up holes in your fence and ensuring that the structure is in top shape to keep your livestock in. Failing to do so can make you liable should one of your livestock get loose and cause a car accident.
An experienced personal injury lawyer—like the ones at J. Gonzalez Injury Attorneys—must be able to prove that the owner knowingly allowed his cattle to roam freely on an interstate or state highway. This is a form of negligence that could fault the cattle owner for damages.
Types of Injuries Sustained
These types of car accidents tend to be catastrophic. Cows generally weigh over 1,000 pounds and deers can way into the hundreds. Colliding into one at a high speed can cause:
Broken or fractured bones
Severed limbs
Internal organ damage
Paralysis including paraplegia or quadriplegia
Head or brain injury or trauma
Death
It is also worth noting that these traumatic experiences do not just generate physical injury but could affect survivors mentally and emotionally as well.
The Rio Grande Valley is sprawling with rich farm and ranch land from Roma all the way to Port Isabel. Because of this, the risks of a livestock automobile collision are high.
If you or a loved one has been injured due to this type of accident, let the experienced car accident attorneys at J. Gonzalez Injury Attorneys help you seek out the compensation you need to recover.
Contact us at any of our McAllen, Brownsville, or Rio Grande City locations for your free legal consultation today.
Source: KRGV and ValleyCentral