Crash With an 18-Wheeler Leaves One Man Injured
by J. Gonzalez Injury Attorneys | January 20th, 2019 | 18 Wheelers, News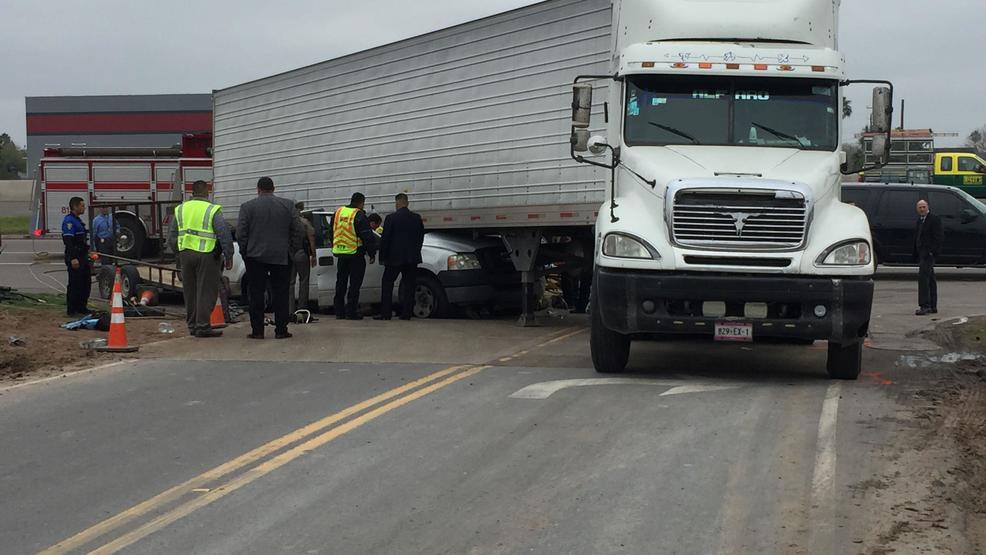 A local driver was involved in an accident with an 18-wheeler on Wednesday, January 16th.
Details About the Accident
Little is known about what caused the accident, but the driver of the pickup truck was lucky to leave the scene of the crash that took place on Golie Road and westbound Frontage in Donna.
According to Donna Police, the pickup truck had been wedged underneath the 18-wheeler for at least 45 minutes before the driver was rescued. The individual was taken to a local hospital for treatment and was expected to be discharged later Wednesday evening.
The investigation is still ongoing.
Large Truck Accident Facts and Statistics
According to data accumulated by the Federal Motor Carrier Safety Administration (FMCSA), which highlighted information from the Fatality Analysis Reporting System (FARS), a large truck is defined as having a gross vehicle weight rating (GVWR) greater than 10,000 pounds.
A typical 18-wheeler weighs around 80,000 pounds. That's 40 tons of metal.
On the other hand, a typical passenger car weighs around 5,000 pounds. That's why these types of accidents are often fatal for those driving in traditional passenger cars.
A 2017 report drafted by FMCSA provides staggering insight about commercial truck accidents that took place between 2015 to 2016:
A total of 4,564 people perished in 4,079 crashes that involved a large truck or bus, amounting to a five percent increase in fatalities and six percent increase in fatal crashes in 2015 from the previous year.
Drivers and occupants of large trucks or buses accounted for 16 percent of these fatalities.
In total, large truck and bus accidents accounted for 12 percent of all traffic fatalities in 2015.
This report also showed that Texas is one of the top 10 states with the highest rates of fatalities in large truck and bus crashes. Other noteworthy points the study made include:
Speed was a factor in 17 percent of truck crashes involving at least one large truck fatality.
At least 39 percent of large truck drivers or occupants that perished in a large truck or bus crash weren't wearing a seatbelt.
At least 6 percent of these accidents occured because the truck driver was distracted.
61 percent of fatal large truck or bus crashes occurred in rural areas.
It is always important to give these massive trucks their space on the road, as much as you safely can, in order to prevent yourself from becoming another statistic.
Have you, or someone you love, been involved in a car accident involving a large commercial truck?
Do not hesitate to fight for your rights and the compensation you deserve. Trust in the Rio Grande Valley's best truck accident attorneys at J. Gonzalez Injury Attorneys to protect your rights.
Contact us at one of our McAllen, Brownsville, or Rio Grande City offices to set up your free legal consultation today.
Source: Valley Central, KRGV