Fatal Edinburg Car Accident Takes the Lives of Two Young Children
by Amber Cortez | September 19th, 2020 | Auto Accident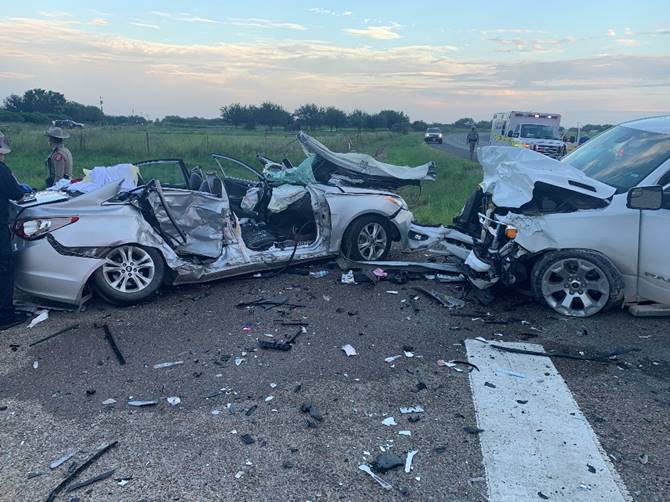 On the afternoon of Friday, September 18th, a tragic two-vehicle collision took the lives of a 13-year-old boy and 6-year-old girl in Edinburg.
Details About The Incident
According to local authorities, the accident occurred at approximately 5 p.m when a 15-year-old driver of a Hyundai was headed eastbound on FM 2812 and attempted to pass another vehicle. The driver was trying to turn into Buena Vista Drive.
The attempt went awry, causing the driver of the Hyundai to lose control of the vehicle and skid into the westbound lane until a Dodge pickup truck ultimately struck into its passenger side.
A 39-year-old passenger riding in the passenger side at the time of the accident suffered significant injuries. The 13-year-old and the 6-year-old sitting in the rear of the vehicle were unrestrained and pronounced dead at the scene.
The driver, the 39-year-old passenger, and the occupants of the Dodge pickup truck were all rushed to the nearest hospital for further medical evaluation. The Texas Department of Public Safety (TxDPS) continued their investigation into the accident.
The Risks That Unrestrained Passengers Face
These kinds of accidents are always tragic, especially when it happens to children. Unfortunately, these kinds of car accidents are more common than you would think. As per the Centers for Disease Control and Prevention (CDC), injuries sustained in severe car accidents are the leading cause of deaths for children all across the United States.
In fact, a total of 675 children ages 12 and younger died as a result of a serious car accident. Out of those fatalities, 236 individuals were not restrained properly. Keep in mind that the CDC states that properly strapping up your young child with an adequate booster seat can reduce a serious injury by 45 percent. For older children, teenagers, and adults, wearing a seat belt can reduce your chances of suffering a serious injury or death by 50 percent.
Edinburg Car Accidents By the Numbers
According to the Texas Department of Transportation (TxDOT), the City of Edinburg experienced a total number of 2,581 car accidents in 2019. Out of those reported car accidents, it was reported that:
644 incidents occurred where 1,217 suffered possible injuries.
126 incidents occurred where 187 individuals suffered non-incapacitating
injuries.
29 incidents occurred where 33 individuals suspected to suffer serious injuries.
6 incidents occurred in which 6 individuals were killed.
McAllen Car Accident Attorneys By Your Side When You Need Them the Most
An unexpected tragedy such as a car accident that takes the life of a loved one is a painful circumstance to endure, but if it occurred because of a negligent party, you may be entitled to fight for compensation that helps cover associated costs.
The McAllen car accident lawyers of J. Gonzalez Injury Attorneys can help you get on the right path toward healing, fighting tooth and nail in civil court for the compensation you and your family deserve for all of your physical and emotional pain and suffering.
Car accidents can happen in a moment's notice, so please make sure to wear a seat belt. Should one happen, J. Gonzalez Injury Attorneys can help you find financial relief.
Source: The Monitor