Five Vehicle Accident Involving School Bus Sends Many to the Hospital
by Amber Cortez | August 15th, 2018 | Bus Accidents, News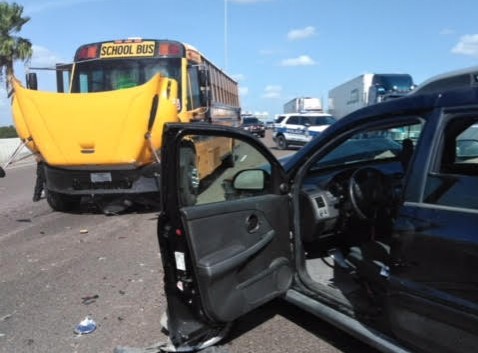 On Tuesday afternoon, August 14th, at around 5 p.m., a five-vehicle crash involving a school bus occurred in Pharr, sending several students to the hospital for injury treatment.
The J. Gonzalez Injury Attorneys are proud to announce that we have been privileged to represent one of the victims of this horrendous accident. Our client will receive the best legal care possible and we will make sure that the negligent party responsible for this serious accident is brought to justice.
Details of the Accident
According to the Pharr Police Department, the accident occurred on the westbound lane of Expressway 83. Details are limited at this time about how the accident occurred, but police are continuing to investigate exactly what took place.
What is known is that five vehicles were involved, including a school bus from Brownsville ISD. This accident sent a large number of students to the hospital for treatment of minor injuries.
The bus from Simon Rivera High School was loaded with the high school volleyball team that was headed to a match in McAllen when the accident occurred.
The crash still remains under investigation.
School Bus Accident Statistics
A key study from the National Highway Traffic Safety Administration (NHTSA), school transportation related accidents found that from 2006 to 2015:
Approximately 1,313 fatalities, consisting of people of all ages in school-transportation-related crashes occurred, averaging 131 fatalities per year.
301 victims were school-age children and of that total, 54 were occupants of school transportation vehicles, 137 were occupants of other vehicles, 102 were pedestrians, and 8 were cyclists.
Around 34 percent of school-aged pedestrians killed in these type of accidents were between 8 to 13-years-old.
What You Can Do To Ensure Your Children's Safety On The Bus
Teach your children how to conduct themselves properly on the school bus in order to stay safe with these tips:
Always keep a safe distance away from the road when waiting for the bus.
Take a seat as soon as you board the bus and stay seated.
Keep your arms, legs, and limbs inside of the bus at all times.
Do not express aggressive behavior or get into a fight on the school bus.
Do NOT distract the bus driver with:

Idle chatter
Screaming across the bus
Loud music or sounds from your smartphone

Buckle your seat belt if applicable.
Have you or your child been involved in a bus accident? Our personal injury attorneys want to hear from you.
Accidents are a terrifying ordeal to experience, especially when they involve our children. If you or someone you love has been injured or died because of a negligent third party — whether it be a school bus driver or another passenger vehicle motorist — enlist the aid of the Rio Grande Valley's best car accident attorneys at J. Gonzalez Injury Attorneys.
Contact us at any of our McAllen, Brownsville, or Rio Grande City locations to set up your free legal consultation today.