Halloween Road Safety Tips for Trick-or-Treaters and Drivers
by J. Gonzalez Injury Attorneys | October 9th, 2017 | Blog, Driving Tips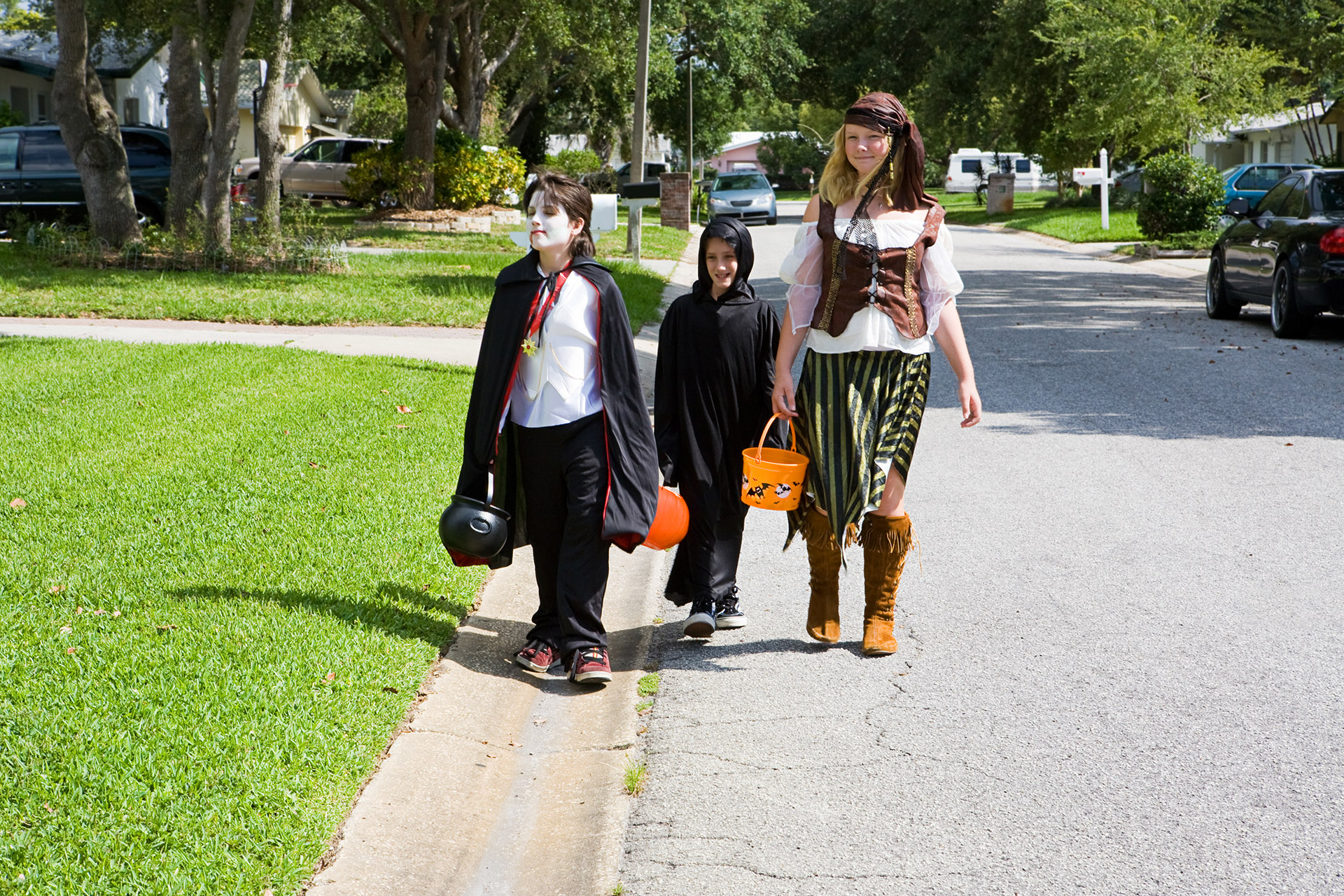 All Hallow's Eve is a night of fun and adventure for families all over the country. Between picking costumes, trick-or-treating, and devouring candies, few families take into consideration the importance of road safety.
If you're playing chaperone at home or hitting the road for a Halloween party, there are few safety factors to consider on Halloween:
The majority of accidents that happen on Halloween occur between 4:00 and 10:00 p.m., particularly as the sun sets.
Data from 2014 from the Centers for Disease Control and Prevention (CDC) revealed that the number of deaths among young pedestrians is four times higher on Halloween, particularly during those evening hours.
Avg. 5.5 fatalities occur each year on #Halloween vs 2.6 fatalities on other days #JGo #Stats
Click To Tweet
Accidents can result from careless driving or lax pedestrians. Both drivers and trick-or-treaters must be aware of how to keep safe on the road this Halloween. Your lawyers at J. Gonzalez Injury Attorneys would like to provide a few tips to promote road safety this Halloween in the Rio Grande Valley.
Safety Tips For Pedestrians Trick-or-Treating on Halloween
Use flashlights, glow sticks, or reflective tape. You'll likely encounter some neighborhood or area that is poorly lit. You can avoid losing a member of your trick-or-treat party in these darker areas by providing everyone with a flashlight. Glow sticks and reflective tape attached to your children's costumes will help to make your party more visible to drivers.
Review road safety tips with your children. The most important road safety lesson for children to learn is to look both ways before crossing the street. Whether your little ones are trick-or-treating on Halloween or walking home from school, this lesson should become an instinct to them whenever they are crossing a street. Walking on sidewalks and crosswalks in well-lit areas is another important lesson to review with your children, especially if they are trick-or-treating with someone other than yourself.
Avoid walking on the road. The sidewalks may be crowded with trick-or-treaters as you and your little ones make your way through the neighborhood but never resort to walking on the road. Take extra precautions if your child is wearing a long costume that may cause them to trip or if they are wearing a costume that restricts their vision. Large masks can block a child's vision which can result in a completely avoidable accident. The same goes for crossing the road. Stick to crosswalks or street corners where visibility is better for drivers and pedestrian crossing is expected.
#Halloween #SafetyTip: Always walk on the #sidewalk, never in the street. #JGonzalez
Click To Tweet
Put away your electronic devices. If you are the responsible adult of a trick-or-treat party, make sure to keep your cell phone and tablet off unless they are needed for an emergency. Use of electronics when caring for the safety and well-being of children can be a dangerous distraction. Never play on an app or text while guiding your children through high-traffic neighborhoods. You may risk losing a member of your party or you may put them in harm's way.
Safety Tips for Drivers on Halloween
Avoid residential areas. Pedestrian traffic will be highest in residential areas. A high volume of trick-or-treaters can be expected between the hours of 6:00 and 9:00 at night. If you'll be out and about in your vehicle at that time, try to stick to main roads and the expressway. You'll want to avoid getting stuck in congested neighborhoods if you have some place to be on Halloween night.
Be vigilant of pedestrians. This should go without saying. You may not be used to watching out for people on the street but Halloween is a special occasion that calls for special attention. Wherever you are driving to on Halloween night, make sure to keep an eye out for fellow Rio Grande Valley residents. If you are planning on drinking that evening, consider getting an Uber, Lyft, or a taxi to keep yourself and others out of harm's way.
Watch for specific areas. Pay attention when driving through residential roads that have poor lighting or many parked cars. Children are much more difficult to see than adults and they may dart onto the road unexpectedly. You'll have little to no time to break so be extra-cautious when driving through busy areas.
Put away your electronic devices. The use of electronic devices while operating a motor vehicle is now illegal. Some people are still fighting the urge to use their phone while driving or while held up in traffic. If you find yourself in this group, make sure to keep your phone stored away while you're driving on Halloween night. There are too many people sharing the road with drivers for the likes of distracted driving.
#Texting while driving is #illegal in #TX. Never use your cell phone when behind the wheel - especially on Halloween
Click To Tweet
Halloween comes along once a year, so make the best of it. Keep these tips in mind to enjoy a spooky and exciting holiday free of harm or injury.
Whether you're driving, trick-or-treating, or you find yourself doing a bit of both, make sure to have fun – and above all – be safe this Halloween.
Should you or a family member suffer an unfortunate situation that requires legal guidance, then contact the J. Gonzalez Injury Attorneys at (956) 630-6700. Our team of personal injury lawyers in McAllen, Brownsville, and Rio Grande City will fight for the justice you and your loved ones deserve.