Hargill Man Loses Life in 3-Vehicle Crash
by J. Gonzalez Injury Attorneys | May 18th, 2021 | Auto Accident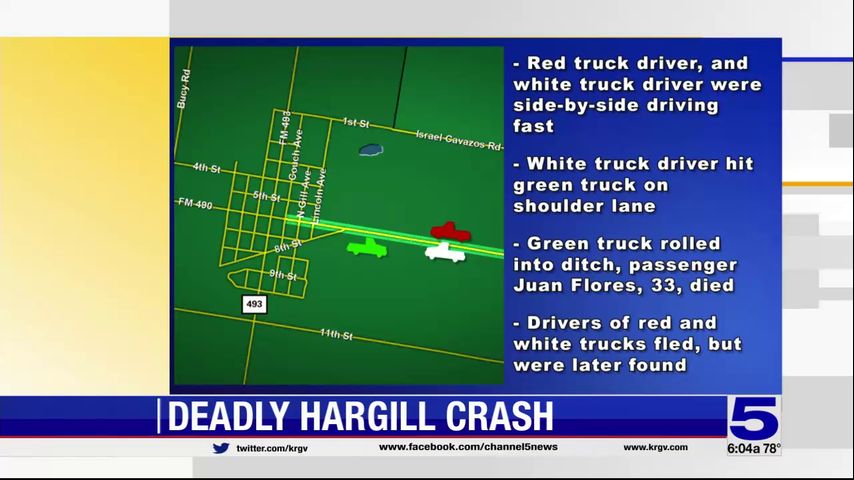 A 33-year-old man lost his life on Saturday, May 17th, in a 3-vehicle crash near Hargill.
Negligent Drivers Cause Fatality
The Texas Dept. of Public Safety reported a car accident on Saturday, May 17th, at around 11 a.m. on FM 490, east of FM 493 near Hargill.
According to DPS Troopers, a red Dodge Ram and White Chevrolet Silverado were speeding next to each other on FM 490, traveling westbound. Initial investigation revealed that the driver of the Silverado was traveling on the wrong side of the road when they lost control of their vehicle and struck a Dodge Dakota that was on the eastbound shoulder of FM 490.
The driver of the Dodge was forced off the road, which led to a rollover. The driver of the Ram then struck the Chevrolet before fleeing the scene. The individual was found in a nearby neighborhood.
The driver of the Chevrolet also fled the scene but returned.
The driver of the Dodge suffered fatal injuries as a result of the crash.
Common Causes of Multi-Vehicle Accidents
Some of the most common causes of multi-vehicle accidents include:
Bad weather conditions
Speeding
Use of cell phones & electronic devices
Intoxicated drivers
Distracted driving
Negligent driving behaviors
Discovering Who is at Fault
Multi-vehicle accidents can become complex as there are many factors that can cause an incident. Law enforcement agents must identify the negligent act while also investigating whether other parties were speeding, following too closely, using a cell phone, or driving negligently.
Duty of Care and Proximate Cause
When out on the road, we all are under the duty of care to drive responsibly to avoid an accident. When an individual fails, they become the proximate cause or legally responsible party. Individuals injured as a result of the at-fault driver's behavior have a legal right to compensation.
Should an individual lose their life in a car accident, certain remaining family members of the decedent may have the legal right to file a wrongful death lawsuit against the responsible party.
In order to determine who was at fault in the accident, insurance investigators will review police reports to find out if there were any arrest or citations for:
Intoxication
Possession of narcotics
Open alcohol container
Speeding
Suspended license or unlicensed driver
No insurance
Reckless driving
Following too closely
Investigators will also interview drivers, passengers, and witnesses, as well as take photographs of the accident scene. They will also review driving records of drivers to research for prior arrests, tickets, and accidents.
Filing a Claim Against the At-Fault Driver(s)
If you are involved in a multi-vehicle accident, you'll want to contact your insurance company immediately. You may also want to pursue your own claim against the at-fault driver(s), especially in a wrongful death scenario.
If you're not sure who is at fault, then you can file your claim against all the insurance companies of the other drivers. This may help to procure a better understanding of who is at fault, as the insurance companies will attempt to identify the liable party.
Because the legal aspects of a multi-vehicle accident can become so complex and convoluted, it is in your best interest to seek the guidance of an experienced personal injury lawyer to ensure you get everything that is owed to you.
When you or a loved one have suffered a tragedy, you need a law firm that will fight for you. J. Gonzalez Injury Attorneys knows how to get results and can help you secure the justice and compensation you and your family need.
Source: KRGV