Jesse Gonzalez Awarded ADDY for Achieving Excellence in Advertising
by J. Gonzalez Injury Attorneys | February 26th, 2020 | News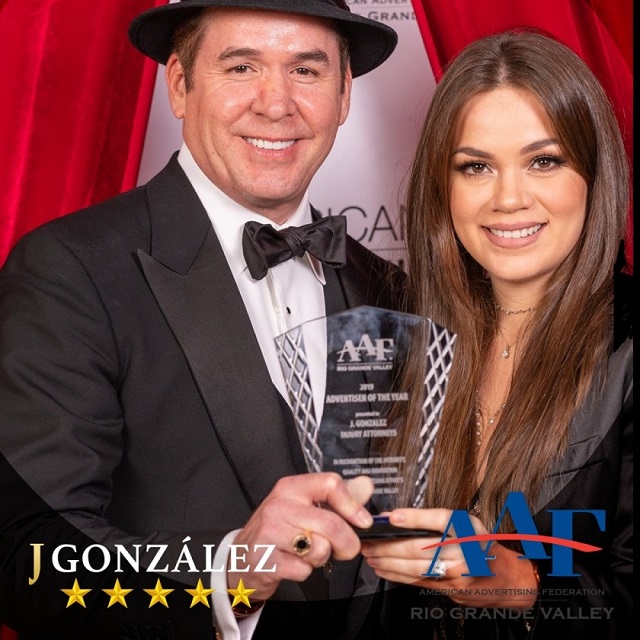 Jesse Gonzalez of J.Gonzalez Injury Attorneys has been named a 2020 recipient of the Advertiser of the Year award by the American Advertising Federation of the Rio Grande Valley.
The AAF-RGV branch held its annual American Advertising Awards Gala in McAllen on February 20th and awarded the McAllen car accident attorney an ADDY for the significant impact he has made within the advertising market throughout the entire Rio Grande Valley.
About The Award
The American Advertising Award, commonly known as an ADDY for short, is recognized as one of the largest and significant nationwide competitions for the entire advertising industry.
This competition is a three-tier competition that begins at the local branch level and concludes at a national level at ADMERICA, AAF's annual conference. Those who win the national recognition will be presented with a national ADDY during the annual conference in June at Palms Springs, California.
Each year, local AAF branches present ADDYs to those notable agencies and businesses who have made a big splash in their region with their creative spirit within the art of advertising.
With this win, Jesse Gonzalez qualifies to move on to the second tier of the competition where he will represent his law firm and further compete against other regional recipients in one of 15 district competitions.
J. Gonzalez Injury Attorneys: Commitment To Excellence 
While it is a tremendous honor to be recognized for an achievement in advertising, Jesse Gonzalez, the McAllen car accident attorney, is committed to one specific goal: to bring civil justice to victims of car accidents caused by negligence.
Jesse will fight tooth-and-nail in civil court in order to win the financial relief that his clients need, and he will not stop until a proper verdict or settlement has been reached that can cover your damages.
With ongoing years worth of experience, J. Gonzalez Injury Attorneys has served those in need of legal assistance through the Rio Grande Valley and understand exactly what it takes to get you the results you deserve. 
If you or a loved one have been involved in a car accident resulting in a personal injury,
contact J. Gonzalez Injury Attorneys
today at any of our McAllen, Brownsville, or Rio Grande City locations for a FREE, no-obligation case evaluation!