Jesse Gonzalez's Experience With COVID-19
by Amber Cortez | July 31st, 2020 | News, Personal Injury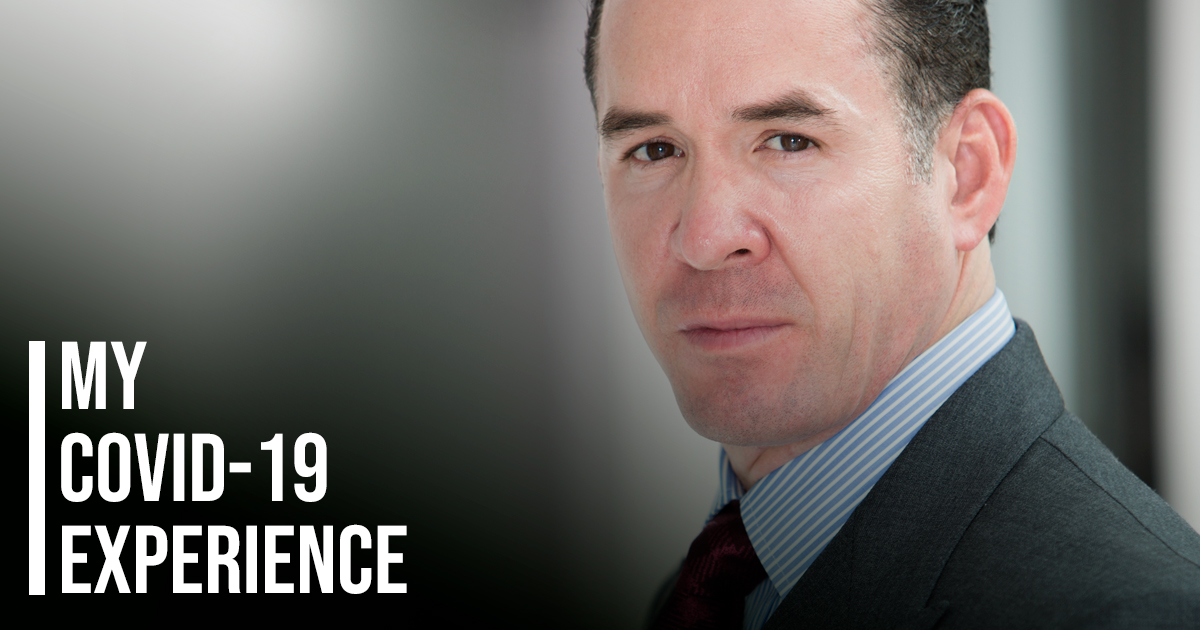 With the surge of COVID-19 cases at an all-time high across the Rio Grande Valley and hospitals at full capacity, it is now more imperative than ever to comply with all local mandates given by our counties, socially distance from each other as much as we possibly can, and most importantly, wear a protective mask.
While Jesse Gonzalez, founder of J. Gonzalez Injury Attorneys, is always fighting tooth and nail for victims of personal injury accidents across the Valley, he recently had to fight a different, more personal, and nearly lethal battle with COVID-19 itself. 
In a tell-all interview with local radio station Tejano 102.1, the McAllen personal injury attorney took a moment to share how he fought and survived COVID-19, helped debunk common myths spread across the internet, and emphasized the importance of what it means to flatten the curve in the Rio Grande Valley, even if it means a few minor sacrifices.
His COVID-19 Experience
We often see in big blockbuster movies how deadly viruses can be spread in a very over-the-top way where individuals show exaggerated symptoms once they've contracted a virus. To make it abundantly clear, COVID-19 does not work that way. Instead, it makes its way in, in a quiet manner with very minor symptoms.
Jesse Gonzalez and his entire family contracted the coronavirus after someone met with a person who experienced what was then thought as "minor allergies," which eventually wreaked havoc into his personal life as time went on. Luckily, all of his family members recovered relativity quickly; some recovered within weeks and even days after.
But as for Jesse, his battle with COVID-19 lasted 23 days.
What started out as minor symptoms the first week, Jesse started experiencing stronger symptoms, which included excessive sweating night after night, extremely high fevers, and unimaginable fatigue. He eventually made his way to a nearby hospital where he then developed blood clotting and was eventually diagnosed with double pneumonia. 
After intensive care and a near-death experience, Jesse was eventually cleared to leave.
It was then where he had an epiphany as he was looking back at not only his own personal battle with COVID-19, but with the circumstance as a whole that we are currently facing in the Rio Grande Valley.
"Do You Know, or Do You Think You Know?"
With so much uncertainty being spread across our community and noise coming out of our social media platforms, for some, it may be hard to follow the truth behind the COVID-19 pandemic.
To set the record straight, COVID-19 is real, and does not discriminate against anyone!
While we often hear so much gossip and conspiracy theories that this virus is a hoax and the virus' survival rate is high, people are dying at an alarming rate every day across the Rio Grande Valley.
So next time you see some sort of conspiracy theories on Facebook, Twitter, Reddit, or any other social platform, it important to ask yourself:
Is this person a viable source?

Where is this person getting this information from?

Does this person really know what they are talking about, or do they just "think" they know what the actual situation looks like?
This virus is not a joke and should not be taken lightly by any means. Only gather your COVID-19 related updates from official news outlets, local news stations, and newspapers. 
Helping the Community Flatten the Curve
As of July 2020, both Hidalgo County and Cameron Country were respectively considered hotspots for COVID-19. Additionally, our current situation has even been dubbed as a worst-case scenario by certain news outlets in regards to our death rates and hospitalization overflows. 
From his own personal experience, Jesse urges Valley residents to comply with mandates set in place by our local authorities and follow all recommendations made by the Centers for Disease Control and Prevention to prevent the spread of the coronavirus.
These recommendations include, but are not limited to:
Washing your hands frequently for at least 20 seconds.

Avoid close contact with others, especially strangers.

Clean and disinfect areas you have been around frequently, such as eating areas, workspaces, and restrooms.

Continuously monitor your health for any possible symptoms, and take care of your mental wellbeing as well.

Wear a mask.

A mask can help slow down any potential spread of the virus if each community member comes together, puts away political differences, and wears one. Invest in a proper mask that will truly protect you from infected droplets. Masks made of cloth may be better than nothing but aren't as effective as medical-grade ones.
J. Gonzalez's Take-Home Message
The coronavirus pandemic has shaken the world upside down. While we are living in an unimaginable scenario within our community, it is crucial to protect ourselves and our families as much as we possibly can by limiting unnecessary social gatherings and avoiding trips out of the house for unessential reasons as much as we can. 
COVID-19 is essentially like a game of Russian roulette in the Rio Grande Valley right now. The virus does not discriminate and can take a person's life at random, regardless of pre-existing conditions and overall health.
Jesse believes spreading this message and encouraging the community to help each other flatten the curve can go a long way to saving lives. This virus is silent, lethal, and can wreak havoc on your life. You can't afford to contract it. 
Jesse Gonzalez and the team at J. Gonzalez Injury Attorneys urges our citizens and clients to please stay home and protect your loved ones as much as possible, and if you do have to make an essential trip, do stay safe when out on the road.
And if you have any questions or concerns regarding COVID-19, take a look at our COVID-19 Resource Center now.
Watch the full interview: Video