Juvenile Driver Charged After Tesla Crash in West Austin
by Amber Cortez | August 18th, 2021 | Auto Accident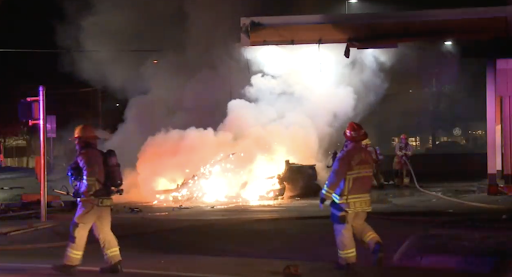 A juvenile motorist is charged with driving while intoxicated after an electric vehicle crash at a gas station resulted in flames.
Details About the Incident
Austin police responded to reports of a crash on August 12 around 1:22 a.m. near a gas station on Exposition Exposition Boulevard at Westover Road in Tarrytown.
According to the authorities, an intoxicated male juvenile was driving a Tesla Model X when he crashed into a traffic light pole at the intersection and then into a gas pump.
The young man managed to escape the vehicle before it burst into flames. Around 2:00 a.m., the Austin Fire Department tweeted that after 30,000-40,000 gallons of water, the fire was under control.
Crews were able to put out the electric vehicle's burnt lithium batteries to ensure it would not reignite.
The Difference Between a Normal Car Fire and an Electric Vehicle Fire
Fortunately for local authorities, Austin Fire Department (AFD) was able to learn from the previous experiences of other departments around the country and state regarding electric vehicle fires.
AFD reported that they have undergone extensive training on how to extinguish fires involving lithium batteries like the ones found in Teslas and other electric vehicles.
A recent report by the National Traffic Safety Board (NTSB) found that 31 percent of fire departments don't train for electric vehicle fires, and half say they don't have special protocols in place to deal with electric vehicles after a crash.
Though electric vehicles catch fire less often than gasoline-powered cars, the issue is that lithium-ion batteries produce a much more intense reaction. Whether in a mobile phone or an electric vehicle, the reality is that nearly all lithium-ion batteries are capable of exploding or burning.
Findings from the United States Fire Administration indicate that electric vehicle fires can exceed 5000 degrees Fahrenheit. What's worse is that using fire or foam to extinguish the fire usually exacerbates the combustion, causing a violent flare-up.
Furthermore, electric vehicle fires also present the risk of electric shock and toxic fumes that aren't normally present in accidents involving gasoline-powered cars.
Experienced Car Crash Attorneys Ready to Help You Get Justice
No matter if you were involved in a gas or electric-powered car crash, the passionate and knowledgeable lawyers of J. Gonzalez Injury Attorneys can help you get the financial relief you need to properly recover.
Don't hesitate if you or a loved one were injured due to the negligence of a drunk driver. Contact us today for more information on your rights to compensation for injuries sustained because of a drunk driver.
Source: ABC13