Marquis Who's Who in America, Top Lawyers, Recognizes Jesse Gonzalez
by J. Gonzalez Injury Attorneys | February 11th, 2020 | Recent News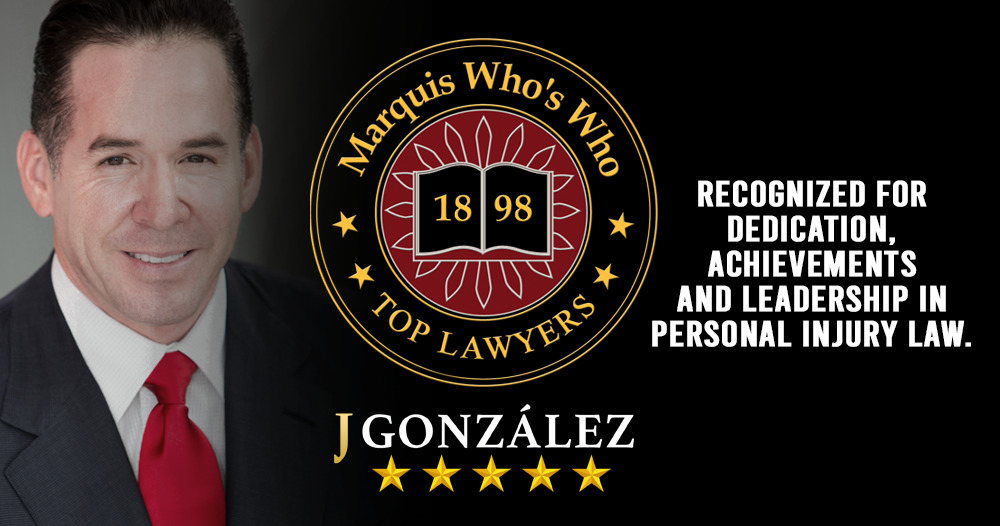 Suits involving personal injury require the utmost skill and compassion, and when choosing a lawyer to help you in your personal injury claim, it's important to find someone who has your best interests at heart.
Luckily, there are organizations who have made it their mission to provide accurate information on who the top lawyers in the country are, and one of those organizations, Marquis Who's Who in America, Top Lawyers series, recently recognized the contributions and dedication of Jesse Gonzalez, Founder, Chief Managing Member, and Lawyer at J. Gonzalez Injury Attorneys.
Because of the dedication to his craft, Jesse has had the honor to represent victims of personal injury in their fight for financial relief, and if you have unfortunately sustained a personal injury, you can trust Jesse Gonzalez to fight for you, too.
Marquis Who's Who Top Lawyers Series
The Marquis Who's Who Top Professionals is an organization that recognizes outstanding professionals in their fields. Their list features district attorneys, top litigators and arbitrators, authors and criminal defense attorneys — all leaders of the legal profession. The Marquis Who's Who is the preeminent source for prominent attorneys in the marquis community. Being featured on this list is an honor and an acknowledgment of skill, achievement, and leadership.
How are Nominees Chosen?
The Marquis Who's Who relies on a collection of different factors to determine who they will feature. They follow a comprehensive and detailed process that reviews each potential candidate's years of service and unique contributions to their fields and their communities. Professionals also undergo an exhaustive interview process to ensure that the series maintains a high standard for its Top Lawyers.
Why Was Jesse Gonzalez Chosen?
As a personal injury attorney, Jesse Gonzalez has dedicated his life to fighting social injustices. This passion of his has compelled him to open up a private practice and honorably serve his community for over 20 years.
He has also devoted his life to educating the community on the potential dangers of people posing as personal injury lawyers in order to take advantage of victims, and one of his goals is to end this predatory behavior in the future. 
His good work garnered him board affiliations over time and recognition from other organizations like Thervo. In time, Marquis Who's Who in America would reach out to the founder of J. Gonzalez Injury Attorneys in order to be featured in their 2020 edition.
A Personal Injury Lawyer Recognized by the Marquis Who's Who in America, Top Lawyers at Your Service
J. Gonzalez Injury Attorneys has a long record of representing victims injured because of negligence and wrongdoing, and their personal injury lawyers are recognized nationally. If you have become the victim of an accidental injury, car crash, or have been injured because of a faulty product, a personal injury lawyer like Jesse Gonzalez can help you get the compensation you need and deserve. 
If you are looking for a McAllen area personal injury lawyer you can trust, contact us today at any of our McAllen, Brownsville, or Rio Grande City locations for a FREE consultation.