Negligent Driver Runs Red Light, Injures Innocent Victim
by Amber Cortez | October 11th, 2018 | Auto Accident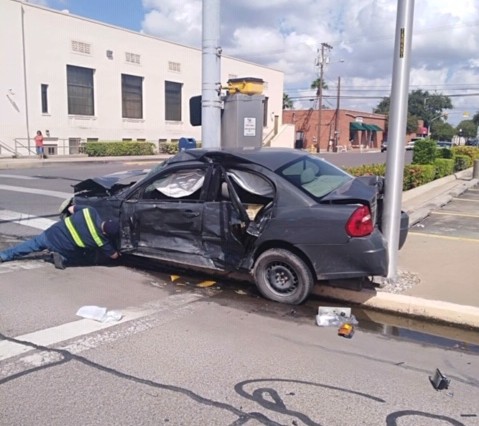 Red light runners are responsible for hundreds of deaths and tens of thousands of injuries each year. Collisions at an intersection are especially dangerous, accounting for 45% of all traffic-related deaths.
Unfortunately, one of our newest clients had to suffer as a result of a completely negligent and irresponsible driver who ran a red light. While traveling eastbound on the center lane of Van Buren Avenue, our client had the right of way on a green light when a GMC Sierra heading north viciously crashed into them as result of disregarding a red light. The collision was so severe that it caused our client to spin out of control and slam into a light pole. To make matters worse, the driver of the GMC Sierra then struck our client once again. A witness observed the driver of the GMC Sierra disregard the right light which led to the horrific accident.
When you or a loved one has been the victim of a red light violation or intersection crash, do not hesitate for a moment to contact the J. Gonzalez Injury Attorneys at (956) 232-8970. We know to fight back hard and fast. Our team of experienced lawyers in the Rio Grande Valley will make sure you get the compensation and justice you deserve.
Common Causes of Red Light Accidents
Red light violations often result in serious – and even fatal – accidents. Some of the most common causes of red light accidents include:
Failure to come to a complete stop
Failure to follow right-of-way rules
Attempting to speed through a yellow light
Negligent driving behaviors (i.e. phone use)
Speeding
Right-hand turn without stopping
Drunk driving
Red light accidents can lead to catastrophic injuries or even death. Negligent drivers who run red lights should be held fully accountable for their actions.
Common Injuries of Stop Sign Accidents
Because speed is often a factor in red light accidents, injuries tend to be more severe and damage to the vehicle is often costlier. Some of the most common injuries that occur as a result of a red light accident include:
Neck injuries
Whiplash
Traumatic brain injuries
Spinal cord injuries
Lacerations from broken class
Burns
Broken bones
Amputations
Soft tissue injuries
Nerve damage
Hemorrhaging
Paraplegia
Post-traumatic stress disorder
Psychological anguish
Whether in a side-impact or head-on collision, you have very little time to take evasive action or to protect yourself from devastating injuries.
At J. Gonzalez Injury Attorneys, we have fought for the rights of personal injury victims in the Rio Grande Valley for more than 15 years. We understand how challenging the aftermath of a severe car accident can be in your life. You may be dealing with the need for extensive medical treatment, you may be unable to work and meet your financial responsibilities, you may even have to give up on the activities that you truly loved.
Find comfort in knowing that you don't have to go through this ordeal alone.
If you have been injured in a red light accident caused by another driver's negligence, contact J. Gonzalez Injury Attorneys today for a free consultation and the peace of mind knowing that you have the premier lawyer in the Rio Grande Valley on your side.