Police arrest driver involved in fatal car crash
by Benjamin Treviño | July 13th, 2022 | Auto Accident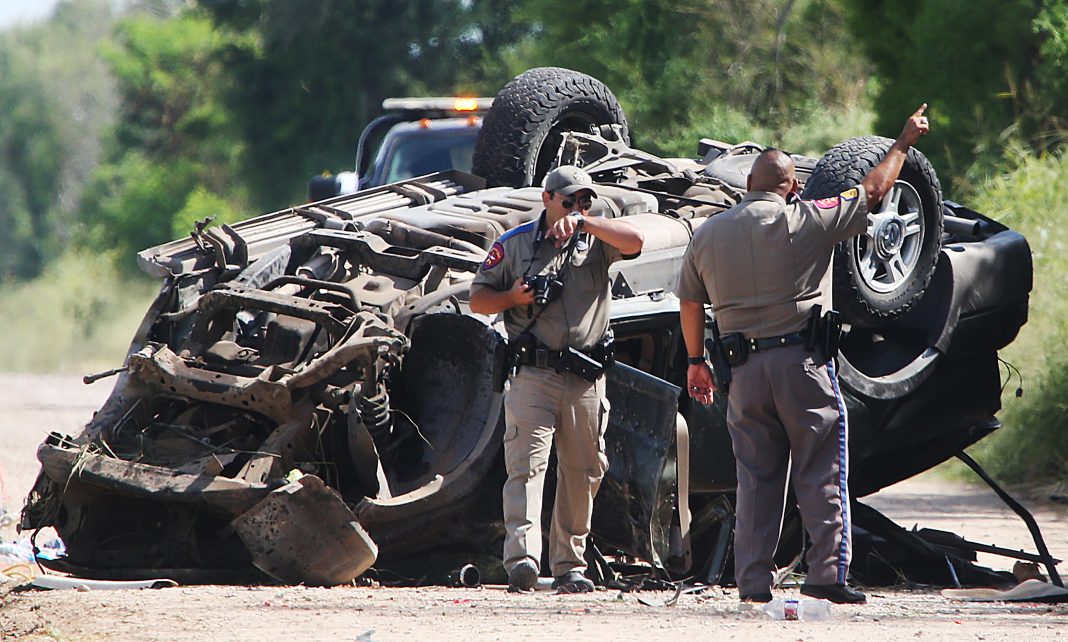 LA JOYA – La Joya Police have arrested the driver of a vehicle involved in a fatal car crash that resulted from a police pursuit.
23-year-old Alexis Pino Hernandez is facing two counts of murder, three counts of smuggling of persons causing serious bodily injury or death, and two counts of evading arrest, among other charges.
According to the probable cause affidavit, police tried to conduct a traffic stop June 29 on Farm-to-Market Road 2221, but Hernandez refused to pull over and a chase ensued. According to the document, the chase ended north of 8 Mile Line Road, when Hernandez lost control of the vehicle, and it rolled over.
At least three occupants of the vehicle were ejected, according to the report, including the two victims – Gabriel Salas Sifuentes, and Jose Ismael Campos Rodriguez.
Hidalgo County jail records indicate Hernandez remains jailed under a total of $2.75 million in bonds, as the case remains under investigation.
Misdemeanors to felony charges in personal injury cases
Misdemeanors to felony charges can be brought, depending on the seriousness and specific circumstances of the charge in a personal injury case. Misdemeanors are generally defined as crimes which may be punishable by up to a year of jail time, and felonies bring more substantial fines and penalties.
Legal advice is crucial
Retaining a qualified attorney ensures you have the best representation for filing a claim in misdemeanor and felony personal injury cases. Both types of crimes can result in jail time, fines, job loss, and a criminal record for those convicted. However, you want a lawyer that seeks the best outcome for you and your family when filing such a complicated claim.
Examples of misdemeanors and felony charges include:
Assault that results in bodily injury, to murder or homicide
DUI or DWI that results in manslaughter, homicide, personal injury
Burglary that results in a grand theft charge with or without injury
Domestic violence with assault and/or battery, personal injury
Use of a weapon with related personal injury or death
Personal attacks which may rise to level of kidnapping and/or sexual assault
A crime which escalates to involving personal injury, harm, death
Time limits affect compensation
Personal injury time limits affect your legal ability to not only file a claim, but also to receive compensation for the injuries you have received. In Texas, the time limit to file a personal injury case is two years from the date of the incident. If you try to file a claim after the time limit, the court can refuse to hear your case, resulting in your loss of rights related to any possible compensation. Retaining a qualified personal injury lawyer early prevents delay in filing your claim, and potential loss of receiving an award.
Misdemeanors to felony personal injury attorneys
Call the J. Gonzalez Law Firm should you be faced with a personal injury or the death of a family member resulting from a misdemeanor to felony charge. Our highly-qualified team of personal injury attorneys will protect your rights, and bring maximum compensation for your personal injury.  Call today at 1-800-CAR-CRASH.
Source: https://myrgv.com/local-news/2022/07/13/la-joya-police-arrest-man-accused-of-killing-two-in-fatal-rollover/?fbclid=IwAR2UkQjNS_3DYuritI0bbmQ_DeiDdCZGuzmmjKj3TnabndDcN4ccbV-BdAE
Image Source: (Delcia Lopez | [email protected])