The Most Dangerous Roads in Rio Grande Valley
by J. Gonzalez Injury Attorneys | July 5th, 2021 | Driving Tips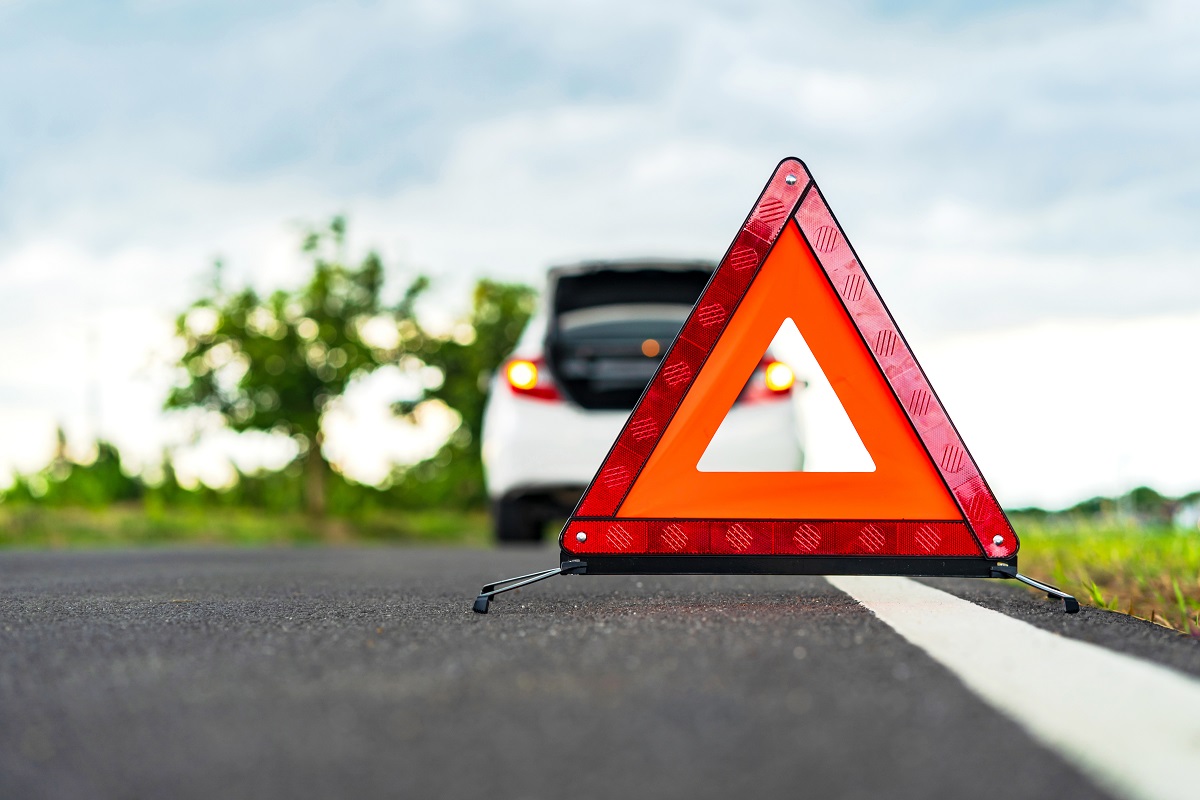 Operating a vehicle on any road requires due diligence and defensive driving skills. However, there are certain roads in Texas that require extra caution and care. Today, the McAllen car accident attorney and Top Lawyer, J. Gonzalez of J. Gonzalez Injury Attorneys, is going to bring to light which roads in the RGV are the most dangerous so that you can take adequate safety precautions while traveling on them.
You don't have to suffer in silence. If you've been injured in a car accident because of another negligent driver on any of these busy roadways, contact J. Gonzalez Injury Attorneys now!
Identifying the Most Dangerous Roadways in the RGV
The most common factor with all of these roadways is that they are busy–and oftentimes congested–roadways. The key takeaway here is that the more people that drive on a particular roadway, the risk of getting into a car accident is increased.
This doesn't mean you should avoid traveling on these roadways, however. As always, practice safe driving techniques like:
Minimizing

all

distractions (no cell phone use, etc.).

Maintaining safe distances from vehicles in front of and behind you.

Being aware of and looking out for your blind spots.

Slowing down at intersections.

Looking beyond the vehicles in front of you to anticipate any abrupt changes in travel.

Don't drink (or use illegal/prescription drugs) and drive. Always have a designated, sober driver.
U.S. Highway 83
In the Rio Grande Valley, the most dangerous roadway is U.S. Highway 83. It stretches east-to-west throughout the Rio Grande Valley from Starr County to Cameron County. The expressway runs through the McAllen metro area and then continues east to Donna and Mercedes before connecting with IH-69E and U.S. 77 in Harlingen, and it is the main roadway locals and tourists use to get from city to city in the RGV.
Interstate 69C & U.S. 281 
Interstate 69C connects the Rio Grande Valley to its northern county neighbors, running through Edinburg, McAllen, and Pharr. This roadway funnels locals and tourists into and out of the Rio Grande Valley, and because of our proximity to Mexico, many large trucks delivering international goods for trade also pass through here.
Interstate 69E/U.S. 77
Running parallel to Interstate 69C, U.S. 77 runs north near Raymondville and stretches down into Harlingen, where it connects with Interstate 2 and continues southeast towards San Benito, Brownsville, and the Mexico border.
This roadway is also another funnel for traffic–both national and international–into the RGV.
International Boulevard/Boca Chica Boulevard (Brownsville)
International Boulevard/Boca Chica Blvd. extended east 24.4 miles, running from the central business district of Brownsville to Boca Chica State Park on the Gulf Coast. This is easily one of Brownsville's busiest roadways with an even busier intersection, so practice caution when driving through it.
TX-186
State Highway 186 runs east from Interstate 69C through northern areas of Hidalgo and Cameron County, going through Raymondville and ending at the Gulf Coast. It is one of the main ways to get to Port Mansfield, where many go to visit, fish, or relax. The way there, however, has many twists and turns, and it also runs through deer territory, posing more of a danger to unaware drivers.
Texas 100
Undoubtedly one of the most dangerous streets in the Rio Grande Valley because of drunk drivers and substantial amounts of travelers, SH 100 runs east from Interstate 69E through Los Fresnos extending to Port Isabel and crossing into South Padre Island via the Queen Isabella Causeway.
This is the main way that funnels into South Padre Island, and around Spring Break, holidays, and even on weekends, it can become a dangerous place to drive in if you aren't careful.
Texas 107
Another main thoroughfare in the Rio Grande Valley, Texas 107 stretches from Mission to Edinburg and on into Combes in Cameron County. This road is a direct link to the University of Texas Rio Grande Valley and the Hidalgo County Courthouse, so traffic is always congested in these areas.
10th Street 
10th Street, or State Highway 336, links Hidalgo with McAllen and travels northward into Edinburg. One of the major arteries in Hidalgo County, 10th Street is a critical street overflowing with local businesses and traffic. It is an important part of the heart of trade in McAllen, TX.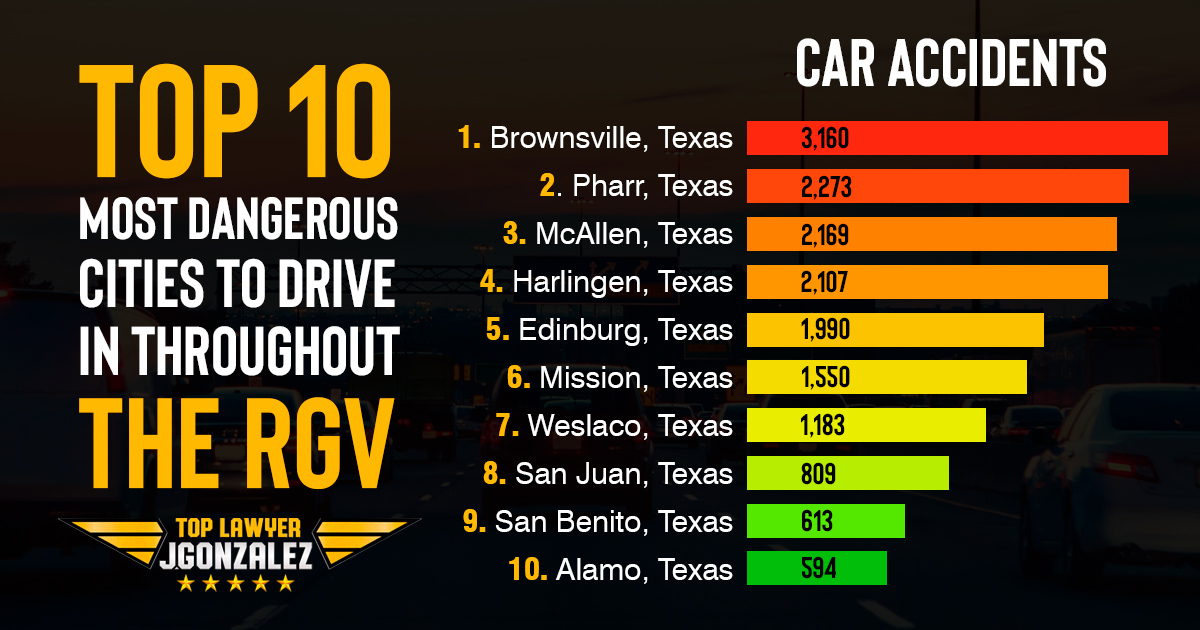 2020 RGV Car Accident Statistics  
These statistics paint an accurate picture of how many car accidents happen in the Rio Grande Valley. Don't become another statistic. Practice your defensive driving skills at all times, even if it is just a quick trip.
In 2020, more than 24,000 car accidents occurred in the Rio Grande Valley involving over 47,000 vehicles and nearly 65,000 individuals.

Out of the 62,972 persons involved in car accidents in the Rio Grande Valley that same year
15,011 suffered a suspected injury

3,834 suffered a minor injury

973 suffered serious injury 

179 lost their lives
Hidalgo County saw a total of 15,782 car accidents.

Cameron County saw a total of 7,568 accidents.

Starr County saw a total of 733 accidents.

Willacy County had a total of 251 accidents.
If You've Been Injured in a Car Accident in the RGV Recently, There is Hope.
Car accidents are a traumatic event to endure, but you don't have to do it alone. If a negligent individual caused your car accident, you can fight for your right to compensation for the expenses you have had to pay while recovering.
That's why you need an experienced McAllen car accident attorney by your side when you file a car accident claim. Our Top Lawyer, J. Gonzalez, has the dedication and experience you need to get the compensation you deserve.