Tips on Driving Through a Flood
by Amber Cortez | August 19th, 2021 | Recent News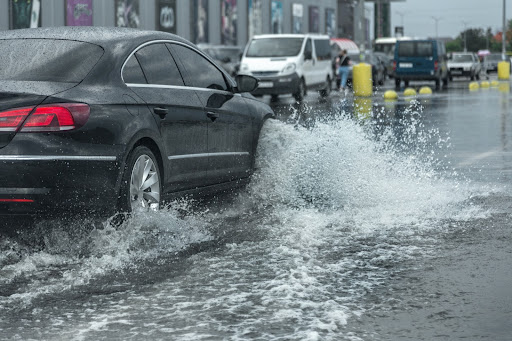 With hurricane season in full effect, we can expect to see more rain heading our way until November comes around. 
As a matter of fact, current forecasts predict that Tropical Storm Fred will make landfall in the eastern panhandle or Big Bend region of Florida. 
Here in the Rio Grande Valley (RGV), we're no strangers to heavy rainfall and flooded streets.
Flooding in South Texas
For the last three years, the RGV has been pummeled with significantly devastating floods. 
In 2018, an elongated tropical wave resulted in heavy rainfall coming from the southwest Gulf, the eastern tropical Pacific, and the western Caribbean. 
A year later in 2019, the region saw a combination of outflow from southeast Texas and upper-level energy in northeast Mexico that led to another round of brutal rain. 
In July 2020, the Atlantic season's first Hurricane (Hurricane Hanna) made landfall along the South Padre Island National Seashore, bashing the coast with sustained 90 mph winds according to the National Weather Service. Hannah affected Kenedy and Hidalgo County before going through Starr County and Tamaulipas as a Tropical Storm. 
Needless to say, parts of the RGV had roads that were entirely flooded for days, and in many cases, motorists attempted to drive their vehicles through the standing water only to end up stranded.
The experienced McAllen lawyers of J. Gonzalez Injury Attorneys know all too well how easy it is for car accidents to happen during heavy rain and in flooded streets.
Before the next round of heavy rain hits us, take some time to review this advice on how to drive through a flood.
3 Tips for Driving Through a Flood
To begin with, it should be understood that there's never an ideal situation for driving through floodwater. If you can, turn around; don't drown. 
Understandably though, there are situations such as flash floods that can land you in a position where you must drive through rising floodwater. 
If you find yourself navigating through a flood, here are some tips to help you travel as safe as possible: 
1. Slow Down – Be cautious and slow down to make sure that you don't lose control of your vehicle and end up in a car crash. Upon entering a flooded road, turn on your hazard lights and stick to 1 to 2 mph. 
Once in, drive at 3 – 4 mph to avoid engine flooding. Try your best not to stop in the middle of floodwater and keep a steady momentum when possible. 
2. Share the Road – Travel in the center of the road. The center of the road is usually the most shallow, therefore the safest area to drive through, which is why you'll normally see motorists travel in a single-file line in these situations. 
Get in line to take advantage of the car in front of you moving water out of the way so you have improved traction. Share the road and don't pass other drivers – you could cause another driver to lose control and get in an accident. 
3. Avoid Driving in Higher Gears – When driving through floodwater, it's very possible for your car to stall if water gets in your exhaust or intake. To help protect your vehicle, drive in low gear so that you don't put additional strain on your engine.
First through third gear are your best bet. If you're in an automatic vehicle, drive at a low enough speed to keep your car in first or second gear.
McAllen Car Crash Attorneys You Can Depend On
The compassionate and knowledgeable lawyers of J. Gonzalez Injury Attorneys take great pride in delivering superior results for all of our clients across the Rio Grande Valley. 
If you or a loved one were injured in a crash during heavy rain or flooding, contact J. Gonzalez Injury Attorneys today to get the compensation you're entitled to.