What You Should Include in Your Car Emergency Kit
by J. Gonzalez Injury Attorneys | July 13th, 2021 | Driving Tips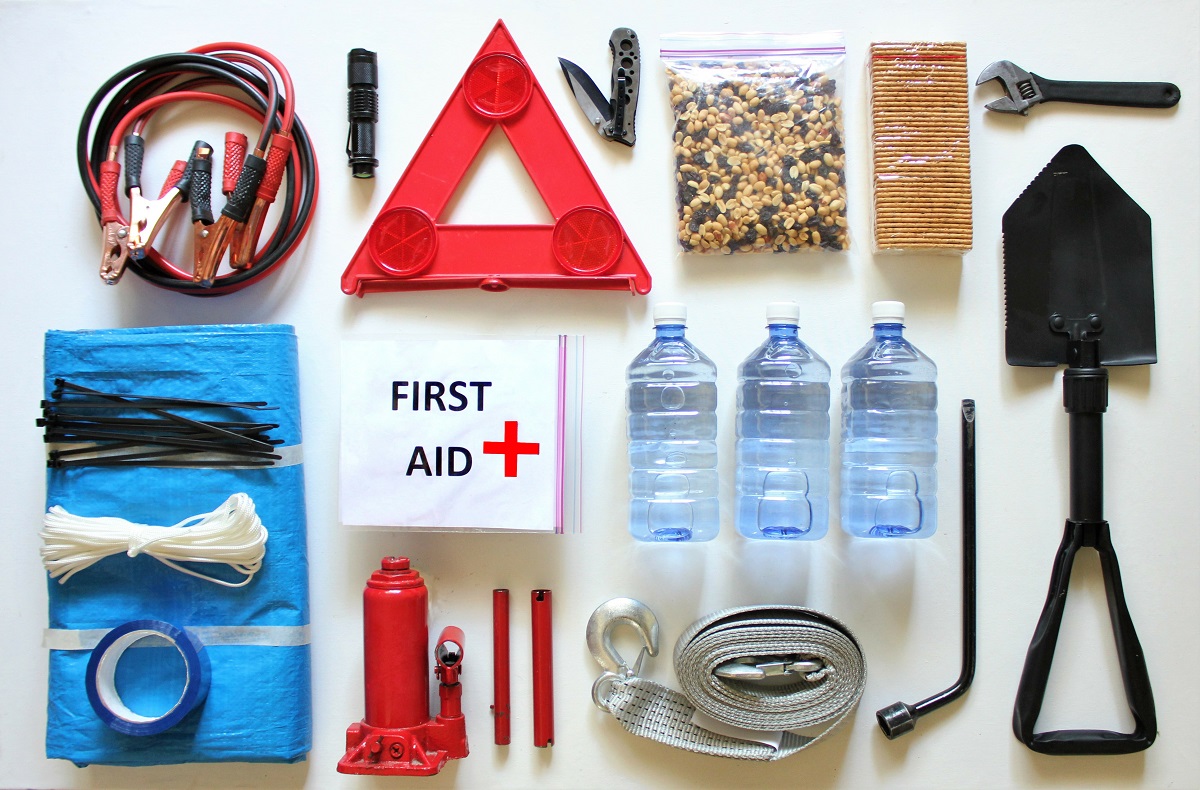 Summer is here, and families from all over the Rio Grande Valley are taking the opportunity to once again travel this great big state. Of course this year, more Texans are likely to hit the interstates and highways because of last year's missed summer. 
Because of all these extra cars on the road, you'll want to be prepared for any emergency situations – whether it's being involved in a car accident or finding yourself in an unexpected situation. 
Your McAllen car accident lawyers at J. Gonzalez Injury Attorneys have our community's health and safety in mind. That's why our experienced attorneys have put together a guide for creating your roadside emergency kit. This kit can prove to be a true lifesaver if you should find yourself in an unforeseen emergency while out on the road. 
What is a Car Emergency Kit?
An emergency roadside kit is exactly what it sounds like: a set of tools, resources, and supplies that can help to keep you and your family safe should you find yourself in an unexpected situation. Whether you decide to purchase a pre-made kit or create your very own customized roadside kit, this resource can be just what you need to get yourself out of a number of sticky circumstances.
While you may not realize it, your car could turn into a sanctuary, particularly in low population areas where you may be miles away from the nearest town. Whether you suffer a flat tire, a blown engine, or find yourself trying to escape a severe summer storm, an emergency car kit can be essential to saving your life. 
Determining What to Put In Your Emergency Roadside Kit
Determining the supplies you need will depend on a number of factors. Take into consideration the following questions to help you get a better idea of what you need for your road trip:
How many people will be traveling with you? 

Will you be traveling with infants or young children? 

Will you be traveling with older adults who may need more rest stops? 

How long will you be traveling? 

What time of day will you be traveling? 

Are you taking pets?

What will the weather be like at your starting point, on the road, and at your destination? 

Have you recently serviced your vehicle? 
What Do I Include In My Roadside Emergency Kit?
Automotive Supplies
Jumper cables

Oil

Antifreeze

Transmission fluid

Empty gas can 

Tools (e.g. a wheel wrench and jack)

Flashlight

Batteries

Spare tire

Fix-a-Flat 
Weather Supplies
Extra wiper fluid

Ice scraper

Shovel 

Kitty litter for traction (on snowy or frozen roads)

Extra gloves

Rain ponchos

Sunscreen
First Aid Supplies
Hand sanitizer

Bandages and band-aids

Gauze

Antibiotic ointment 

Pain relievers

Wipes

Prescriptions
Supplies for Children
Baby wipes

Extra bottles

Extra diapers
Additional Supplies
Snacks

Toilet paper and tissues

Food and water bowls for pets

Toys and blankets

Map

Extra cell phone chargers

Bottled water
Before You Hit the Road
If you're taking a major road trip and haven't provided maintenance to your vehicle in some time, you'll want to take it into your local mechanic for an oil change, to top off your car's fluids, and just to ensure that it can handle the trip.  
You will also want to check your tires for tread and air pressure. An easy way to make sure you have a safe amount of tread on your tires is to stick a penny upside down inside one of the grooves. If Lincoln's head is still showing, then it's time for new tires. Ensuring that your tires are at the proper amount of air pressure will not only help to reduce the risk of a flat tire, it will also help you get greater fuel efficiency on your trip.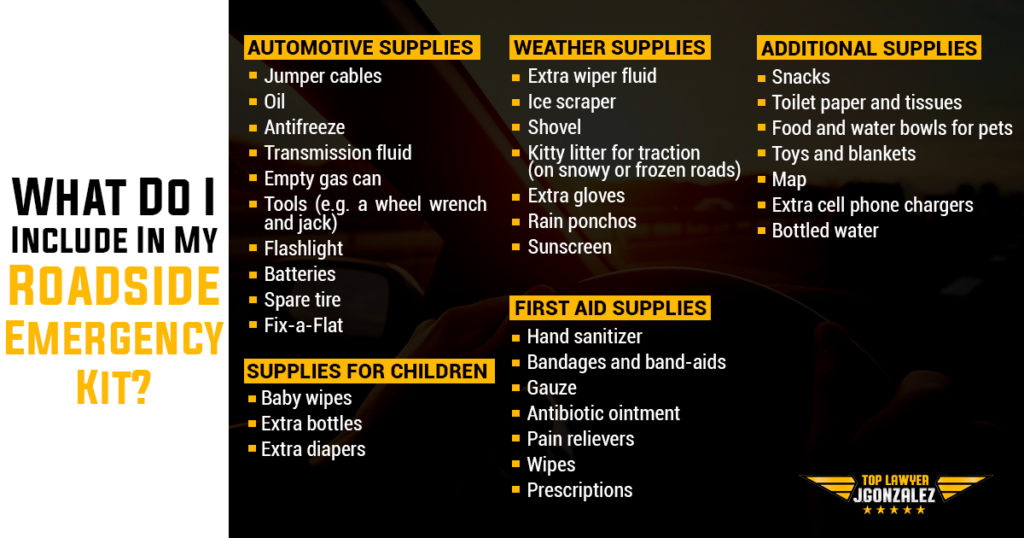 McAllen Car Accident Attorneys Looking Out for You
The McAllen car accident lawyers at J. Gonzalez Injury Attorneys want you to be safe all year long, especially now during the busy summer holidays as we see more drivers on the road. 
Even when doing your best to protect yourself and loved ones, car accidents can still happen. When they do, we are here for you. We'll do everything we can to help you get the justice and compensation you deserve.