Wrong-Way Crash in Edinburg Leads to Two Deaths
by J. Gonzalez Injury Attorneys | July 3rd, 2021 | Auto Accident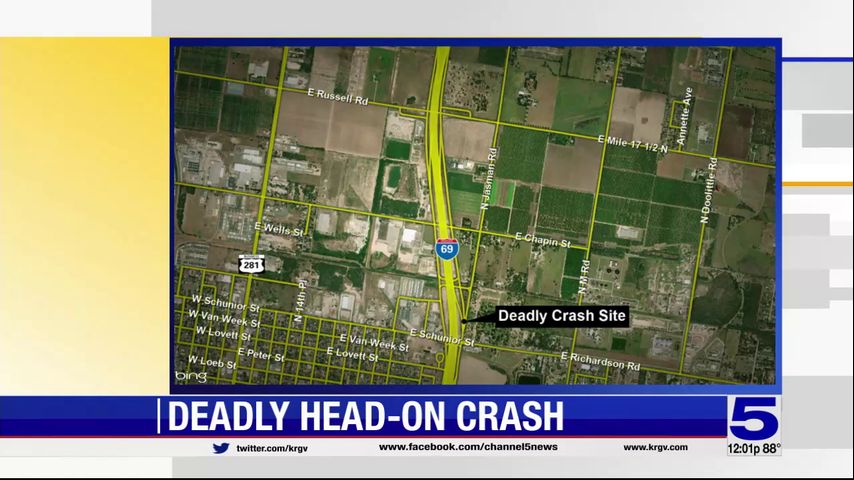 An accident on the morning of Sunday, June 27, led to the loss of two lives in Edinburg.
Details About the Deadly Car Accident in Edinburg
According to City of Edinburg officials, the deadly crash took place at about 5:30 a.m. on the 900 block of North Highway 281.
Police reported that the 20-year-old driver of a blue Nissan Sentra was traveling southbound on the northbound lane when he collided head-on with a silver Chevy Volt. The driver of the Nissan died at the scene while a passenger was taken to a local hospital in critical condition.
The driver of the Chevy Volt, a 31-year-old, was taken to the hospital but lost his life due to injuries.
Police continue to investigate, and a toxicology report is pending.
Stay Vigilant This 4th of July
We are still in the "100 Deadliest Days of Summer," and it is essential that drivers remain vigilant this 4th of July, especially as we begin to return to a certain level of normalcy. With families and friends eager to once again enjoy the holidays with each other, we are likely to, unfortunately, see numerous car accidents this upcoming weekend.
Our McAllen car accident lawyers want you to remember that freedom comes with responsibilities, and we need to follow Texas laws in order to keep ourselves, loved ones, and others safe on the road.
Drinking and driving can easily lead to catastrophic or fatal accidents. According to the National Safety Council:
An estimated 55,000 accidents will take place during the 4th of July holiday.
An estimated 482 deaths are expected this Independence Day.
In 2019, 38% of car accident fatalities involved alcohol-impaired drivers.
Seat belts will save approximately 190 lives this Independence Day and an additional 112 lives would be saved if all vehicle occupants were to wear seat belts.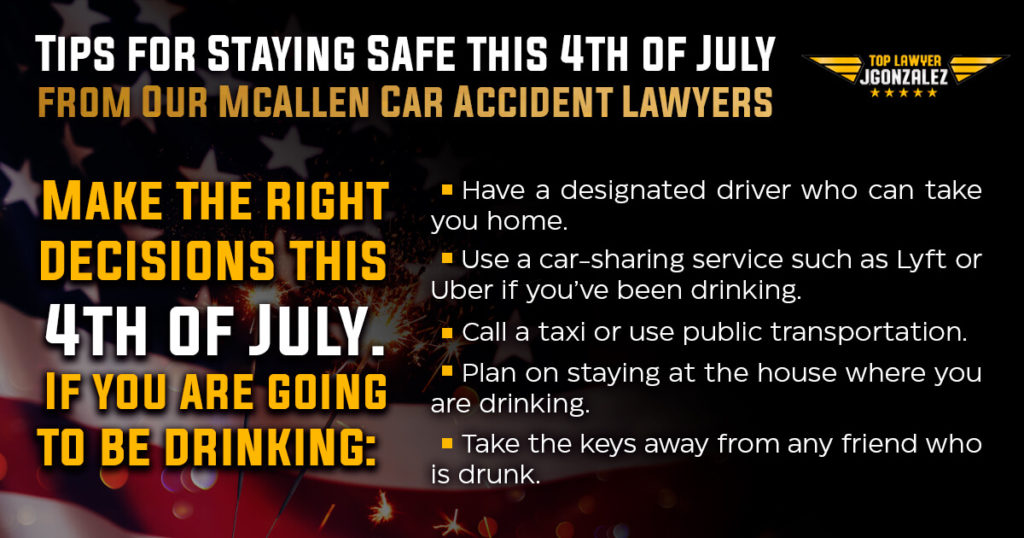 Involved in a car accident caused by a drunk driver? You do not have to deal with your pain alone. J. Gonzalez Injury Attorneys is here for you.
If you or a loved one have been injured as a result of a drunk driving accident, J. Gonzalez Injury Attorneys can help you to file a personal injury lawsuit, and recover compensation for but not limited to:
Medical bills and ongoing medical care
Property damage
Pain and suffering, as well as mental anguish
Diminished earning capacity because of injuries
Loss of past and future wages
Additional punitive damages
Source: KRGV