Fatal Crash Kills San Antonio Motorist
by Amber Cortez | August 28th, 2021 | Auto Accident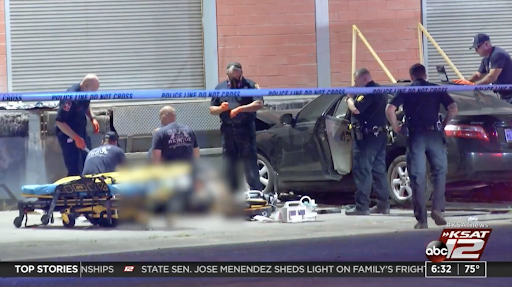 A woman is dead after her vehicle crashed into a building west of downtown San Antonio.
Details About the Fatal Accident
According to San Antonio Police, the crash happened in the 1800 block of S. Laredo Street late at around 3 a.m. on Monday, August 23, 2021.
The authorities report that the 27-year-old woman slammed her vehicle into a loading dock at Mission City Container, Inc.
Firefighters had to cut through the vehicle's window to rescue the woman. Although they were able to pull her from the wreckage, paramedics were unable to save her.
Though investigators are still trying to determine how/why she crashed, they were able to deduce that her car drifted across the street based on evidence.
Police reported that it appeared she was heading west on S. Laredo before her car wandered into the eastbound lanes. She made it across the street and collided with the loading dock.
After the accident, some of the victim's relatives arrived at the scene and said that the woman was on her way home from a gathering at another relative's home at the time of the incident.
Although police are still investigating the crash, one relative said that it's possible the driver fell asleep behind the wheel.
Drowsy Driving in Texas
A 2013 study from the Centers for Disease Control and Prevention found that roughly 6.1 percent of Texas residents admitted to falling asleep while driving a motor vehicle. Texas reported the highest rate of the 19 states that participated in the study.
In that same year, the Lone Star State passed HR 1389, a law recognizing the week of November 6 to November 12 as "Drowsy Driving Prevention Week" to help educate Texans about the dangers of drowsy driving.
Currently, drowsy driving is not illegal in Texas, however, that doesn't mean that you can't be arrested and charged for reckless driving due to exhaustion.
Click To Tweet
Section 545.401 of the Texas Transportation Code states that the offense of reckless driving is committed "when you drive a vehicle in willful or wanton disregard for the safety of persons or property."
Clearly, this can apply to people who decide to get behind the wheel knowing they may fall asleep. The experienced car crash attorneys of J. Gonzalez Injury Attorneys handle countless reckless driving cases in the Rio Grande Valley and have compiled some useful advice to help prevent drowsy driving accidents from happening.
3 Tips to Prevent Drowsy Driving
First and foremost, this is advice to help prevent drowsy driving from happening in the first place, not advice on how to power through drowsy driving. If you find yourself falling asleep while driving, you must stop driving. Pull over somewhere safe and try to get a 20-minute nap in.
With that established, here's some action you can take to ensure you'll be as awake and alert as possible if you plan on driving overnight or for a prolonged period of time:
Get Some Rest Before You Travel – If you have a long drive ahead of you, get adequate rest before you hit the road.
Avoid Alcohol Consumption – Say "no" to alcohol if you plan on driving. This seems obvious, but even drinking even a legal amount of alcohol makes you more prone to drowsiness.
Don't Take Medications That May Cause Drowsiness – Even over-the-counter allergy pills can cause drowsiness. Be sure to check the side effects of any medications you take before you drive.
Reckless Driving Attorneys in McAllen, Texas
Drowsy driving can lead to a reckless driving charge here in the Rio Grande Valley. Take all the precautions you can to ensure you stay awake and alert each time you hit the road.
Were you or a loved one victims of a reckless driving car accident? If so, you deserve justice, and the experienced car crash lawyers of J. Gonzalez Injury Attorneys can help you secure the financial compensation that's owed to you.
Source: KSAT12