J. Gonzalez Honored as Best Rio Grande Valley Attorney for Personal Injury
by J. Gonzalez Injury Attorneys | July 17th, 2018 | News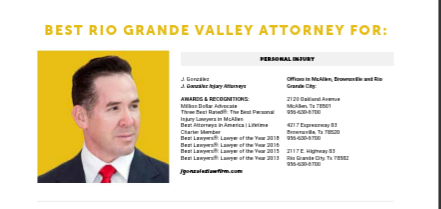 Jesse Gonzalez knows all about hard work. From a childhood spent as a migrant worker to making a future for himself through education, Jesse has always had the desire to do more for the community he serves.
That dedication to truth, justice, and his responsibility to those he represents was recently recognized by RGVision Magazine when he was awarded the Best Rio Grande Valley Attorney for Personal Injury. While there was certainly stiff competition, Jesse's skill level, expertise, success rate, and reliability could not be overlooked.
RGVision sought to determine the top rated attorneys in the region based on the criteria of: honesty, experience, advocacy, results, and accomplishments. It is these attributes of Jesse that make him a true star amongst attorneys in the Rio Grande Valley.
While Jesse counts his blessings and greatly appreciates each award he receives, he also continues to grow as an individual and attorney to provide the best services possible to those he is entrusted to represent.
You can learn more about the RGVision award and Jesse's accomplishments here.
Or if you are in need of trusted and transparent legal representation that fights for your success, then contact J. Gonzalez Injury Attorneys today at (956) 630-6700.