The National Law Journal Names J. Gonzalez as a 2021 Plaintiffs' Lawyers Trailblazer
by J. Gonzalez Injury Attorneys | May 1st, 2021 | Recent News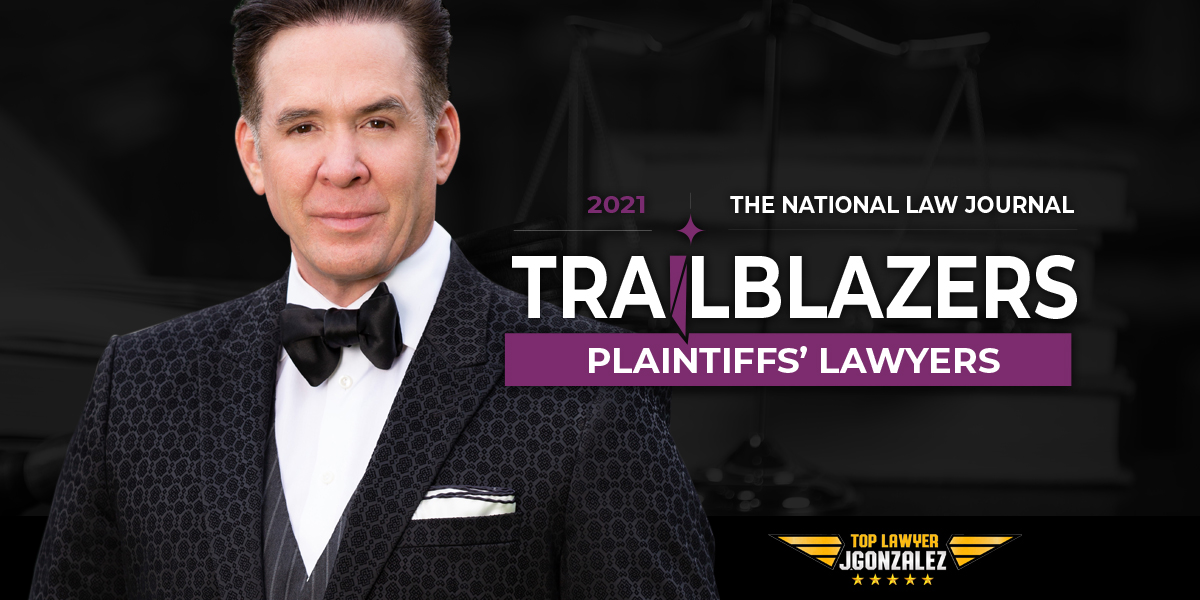 The National Law Journal's 2021 Plaintiff's Lawyers Trailblazers List featured "Top Lawyer" J. Gonzalez in recognition for his work in developing and conducting virtual consultations throughout the COVID-19 pandemic.
More on the Award and J. Gonzalez's Hard Work
This annual recognition is distributed by The National Law Journal, a respected litigation-based publication. It recognizes worthy legal professionals that have made significant contributions to the practice, policies, and technological advances in their particular sector.
For J. Gonzalez, his innovative use of technology provided uninterrupted service to victims suffering from personal injury during an uncertain time–the peak of the COVID-19 pandemic in 2020 and beyond. While many business and law firms shut down at the beginning of the pandemic, this Top Lawyer continued to serve clients through his digital legal services, ensuring that they received the legal services they needed in the safety of their own homes.
Despite many roadblocks and a life-threatening COVID-19 diagnosis, J. Gonzalez still managed to fight tooth and nail to win over 1,500 cases during the duration of the pandemic, securing millions of dollars in financial recovery for his clients.
This year will be the 5th edition of The NLJ's Trailblazers List, and it will be J. Gonzalez's first award.
An Ongoing Commitment to Serve
From Rio Grande City to Brownsville, with a new location in Weslaco and Harlingen soon to come, this "Top Lawyer" is committed to serving personal injury victims in need of legal assistance. He will walk them through the entire legal process to earn the settlement they truly deserve from all negligent parties responsible for their injuries.
When he isn't representing victims in civil court, however, J. Gonzalez is still working for the people by holding food and toy drives, contributing to relief efforts, recognizing the work of first responders, and even getting out on the streets to help those in need himself. To him, it's not enough to represent his community in a court of law but to lend a helping hand when the RGV needs it the most.
Our Rio Grande Valley attorney strongly believes that customer satisfaction is the key to being the RGV's Top Lawyer. He won't rest until he knows for certain that you are 100% satisfied with your settlement, a guarantee that many other lawyers cannot fulfill.
If you or a loved one have been injured in a car accident, contact J. Gonzalez Injury Attorneys today for a FREE, no-obligation virtual consultation.