Rear-End Collision in Dallas Kills 1, Injures 4 Others
by J. Gonzalez Injury Attorneys | September 2nd, 2021 | Auto Accident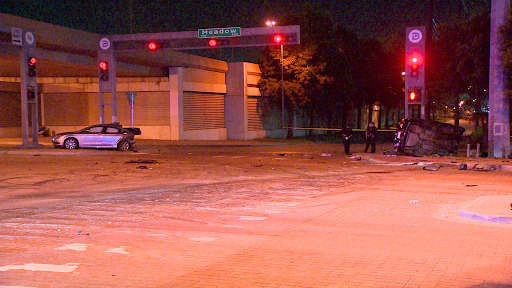 A fatal rear-end collision in Dallas took the life of one person and seriously injured four others.
Details About the Car Crash
Police said that the incident occurred late Monday at the intersection of North Central Expressway service road and Meadow Road.
According to the authorities, the 44-year-old driver of a Lexus car was going northbound on the service road around midnight when he collided with the back of a Chrysler car at the intersection with Meadow Road.
The crash propelled the Chrysler forward, causing it to crash into the base of a nearby highway sign. The Lexus flipped onto its side and collided with one of the surrounding light poles.
The 22-year-old driver of the Chrysler suffered a fractured skull and was hospitalized in critical condition.
The Lexus had three other passengers in addition to the driver. One of them died from his injuries, while the other three were transported to a nearby hospital in critical condition.
According to the @NHTSAgov rear-end crashes are one of the most common types of collisions in the United States, accounting for approximately 29% of all car crashes.
Click To Tweet
Rear-End Collisions in Texas
Research from the Texas Department of Public Safety found that accidents occurring at intersections, such as the one that happened in Dallas, claimed the lives of nearly 900 Texans in 2020. Over 200,000 individuals suffered injuries as a result of a motor vehicle traffic crash last year.
The J. Gonzalez Injury Attorneys understand that these types of accidents are extremely stressful due to the fact that victims can sustain injuries beyond what is evident at the time of the collision.
Top 3 Tips to Prevent a Rear-End Car Crash
Even though there isn't much we can do to avoid being rear-ended, we can still take action to avoid rear-ending another motorist and reduce the overall amount of rear-end collisions.
Check out these 3 useful tips to help lower your chances of being involved in a rear-end collision:
1. Focus On the Road, Not Your Phone
According to a report from the National Highway Traffic Safety Administration, distracted driving is the most common cause of rear-end crashes, accounting for 90 percent of incidents.
Put the phone down, set your playlists in advance, and take advantage of hands-free capabilities in your vehicle to help keep your attention focused on the road and your surroundings.
2. Don't Tailgate Drivers in Front of You
You significantly reduce your stopping distance when you tailgate, drastically increasing your odds of rear-ending another driver. Additionally, tailgating reduces your perception and reaction time, both of which are crucial in helping you circumvent a potential impact.
3. Never Make Assumptions
Don't act based on assumptions when driving. For example, when you're stopped at a light and it turns green, don't assume that the driver in front of you is going to move ahead immediately once possible – perhaps the car in front of them has stalled or the driver is distracted with their phones.
If you move forward because you assumed they would proceed as soon as the light turned green, an accident is bound to happen.
Experienced Rear-End Car Crash Attorneys in McAllen, Texas
We can reduce the odds of causing rear-end accidents by taking some simple precautions.
Despite our best efforts, it's still very possible to be involved in a rear-end car crash. If you or a loved one were injured in a rear-end collision, you may be entitled to financial compensation to help you recover both emotionally and financially.
The J. Gonzalez Injury Attorneys in McAllen are here to fight for you and get you the compensation you deserve. Reach out today to find out how we can help you with your car accident claim.
Source: WFAA