Rollover Accident Occurs in McAllen, Blocking Traffic
by J. Gonzalez Injury Attorneys | December 3rd, 2019 | Auto Accident, Recent News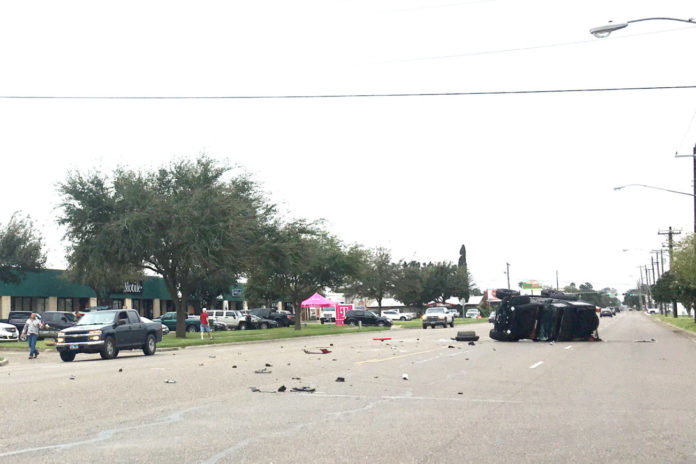 On Wednesday, November 27th, a large black jeep rolled over in the middle of McColl and Cedar in McAllen.
Details Regarding the Accident
The jeep itself took significant damage as it landed on the driver's side by the time it had come to a stop. McAllen PD and firefighters arrived at the scene shortly afterward.
Information on the identity of the driver or how exactly the accident occurred has not been revealed by McAllen PD as of right now, and no injuries have been reported.
What Are Rollovers?
Rollover accidents are known to be one of the deadliest types of accidents and can cause serious injuries and/or death. In fact, rollovers account for an estimated 35 percent of all fatal car accidents in the United States. 
Every rollover is different due to the very nature of what led up to the specific incident. One of the most common factors, however, is the vehicle's center of gravity. The taller and more narrow a vehicle is, the more likely it is to roll over.
The most common type of rollover accident there is known as "tripping," and it accounts for 95 percent of all rollover cases. Tripping occurs when a vehicle runs over and "trips" over an object, causing it to lose its balance and flip over.
Notable Rollover Statistics You Should Know
According to safercar.gov, and data tabulated from a report drafted by the National Highway Traffic Safety Administration (NHTSA), rollovers only account for about 2.1 percent of car crashes across the nation.
However, rollovers are one of the most fatal causes compared to any other type of car accident, claiming up to 35 percent of fatalities in 2010.
More notable statistics regarding rollovers also include:
90 percent were involved in routine driving maneuvers.

85 percent of Rollovers tend to be only Single-Vehicle Crashes.

75 percent–or roughly three-fourths–of rollovers occurred on roads with a speed limit of 55 miles per hour.

50 percent–or roughly half–involved intoxicated driving.

40 percent include unnecessary excessive speeding.
Contact the Right Rollover Accident Attorney for Your Claim Today
Surviving such a traumatic accident can be a physical, financial, and emotional challenge. Luckily, the McAllen car accident attorneys at J.Gonzalez Injury Attorneys are here to help you seek compensation for your injuries in an effort to help pay for all of the damages you incurred so you can focus on recovering.
Just because you suffered from a rollover, even a single-vehicle rollover, doesn't mean you were at fault. It is, therefore, crucial to collect all of the possible documentation you can provide to us, your experienced car accident attorneys, so that we can use this as evidence to prove liability in your case.
Contact J. Gonzalez Injury Attorneys

at any of our McAllen, Brownsville, and Rio Grande City locations for a FREE, no-obligation case evaluation today.

Source: The Monitor