Winters Crash Leaves 3 Dead & Several Others Critically Injured
by Amber Cortez | June 18th, 2021 | Auto Accident
On June 15th, a two-vehicle crash near Winters, Texas, left 3 individuals dead and 3 others in critical condition.
More on the Winters, Texas Car Accident
According to the Texas Department of Public Safety, the two-vehicle crash took place on Texas 153 near Winters at approximately 10:20 pm.
As per DPS officials, the driver of Chevrolet Tahoe was attempting to pass several vehicles when he collided head-on with a Ford Edge. The impact of the collision was so forceful that the Ford immediately caught fire, killing three of the occupants inside the vehicle. Two other children, ages 9 and 12, were taken to an Abilene hospital in critical condition.
The driver of Tahoe was transported to the same Abilene hospital in serious condition.
When It Can Be Dangerous Passing a Car
It can be extremely dangerous to pass another vehicle (or vehicles) if:
You need to pass a long line of vehicles.
The vehicle you are attempting to pass is going to stop or turn in the direction you are passing.
Traffic headed towards you is too close for you to safely pass.
You are in a "No Passing Zone."
The vehicle you are attempting to pass is already traveling at the speed limit or speeds up as you attempt to pass.
You are passing a vehicle on grades.
You are attempting to pass a school bus that is loading or unloading children.
You are within 100 feet of a bridge or railroad crossing.
You are approaching a curve or the top of a hill and are unable to see oncoming traffic.
You do not have enough time to pass the vehicle in front of you and safely return to your lane.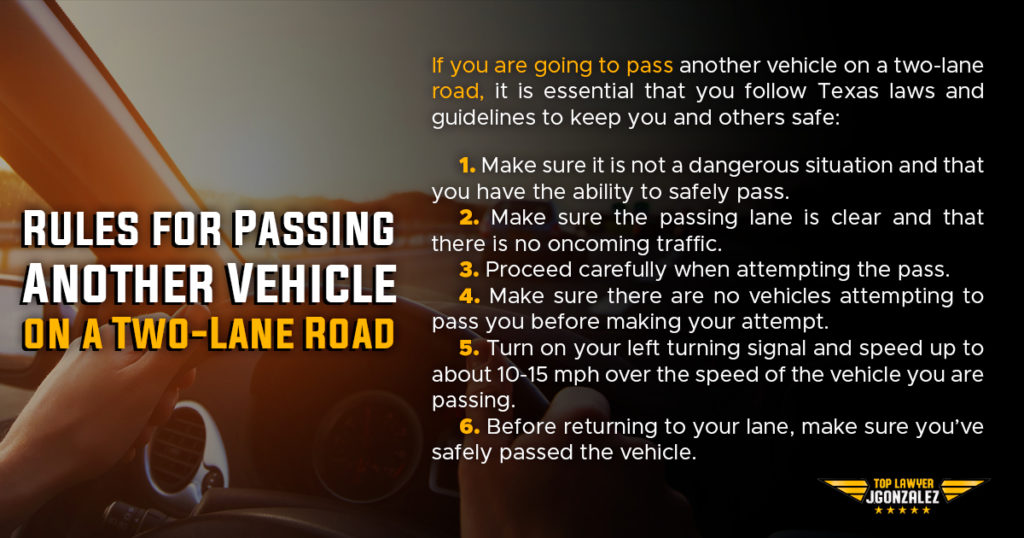 J. Gonzalez Injury Attorneys: Top Lawyer Serving Victims of Car Accidents in McAllen and Beyond
If you have been injured in a head-on collision as the result of another party's negligence, do not hesitate to contact the dependable and trustworthy personal injury lawyers at J. Gonzalez Injury Attorneys. We are ready to defend your rights and help to right the wrongs done against you.
Source: Express News