Woman Dead After Fatal Crash With Semi-Truck
by Amber Cortez | August 16th, 2021 | 18 Wheelers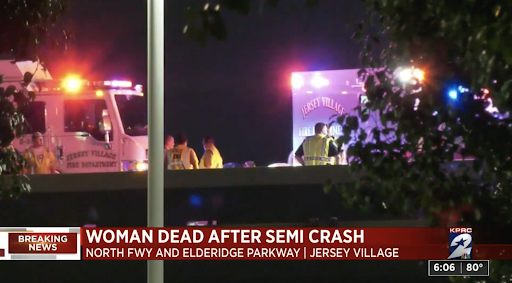 A fatal crash involving a semi-truck in the city of Jersey Village, Texas, resulted in the death of a female driver.
Details About the Semi-Truck Accident
According to investigators from the Harris County Sheriff's Office, the crash happened around 12:15 a.m. near North Eldridge Parkway.
Police report that the driver of a semi-truck was traveling westbound when a female motorist was speeding and collided with the back of the trailer. The force from the impact ejected the driver from her car.
The woman was transported to Memorial Hermann Hospital via Life Flight where she was pronounced dead.
Car Crashes Involving Semi-Trucks Can Lead to Devastating Injuries
Texas Motor Vehicle Crash Statistics from the Texas Department of Transportation (TxDOT) report that there were over 400 fatalities involving semi-trucks in 2020.
When reviewing Texas Motor Vehicle Traffic Crash Facts from TxDOT, we can see that in 2020, 205,498 people were injured as a result of motor vehicle traffic crashes.
The injuries that one can sustain from a collision with a semi-truck can be devastating, if not life-ending. Some of the most common injuries reported from these types of crashes include, but aren't limited to:
Neck/Head Injuries
Whiplash
Injured Back
Torso Injuries
Burns
Lacerations
Broken Bones
Paralysis
For most, it's not hard to imagine sustaining these types of injuries after a crash with a semi-truck. What is less expected, however, are hidden injuries.
3 Commonly Overlooked Injuries After a Semi-Truck Auto Accident
It's possible to walk away from a car crash with a semi-truck and appear seemingly unharmed. What most fail to consider is that the adrenaline from the accident can diminish the significance of their injuries at first.
In some cases, injuries can take days, weeks, even months to manifest the full range of their symptoms. Serious cases can even result in disabling effects.
Three examples of commonly overlooked injuries are:
1. Post-Traumatic Stress Disorder (PTSD)
Not every injury is physical. A high-speed crash with a semi-truck is a violent and traumatic event that can leave victims suffering from post-traumatic stress disorder. If you experience symptoms such as nightmares, flashbacks, sudden anger, or an inability to cope with daily life, seek out a psychiatrist or doctor to diagnose the issue and put you on the path to recovery.
2. Herniated Discs
More subtle than a broken spine, herniated discs are injuries to your discs that can cause pain, numbness, and a tingling sensation in your limbs and/or neck. Herniated discs can also be responsible if you begin to feel weakness in your muscles. In most cases, an orthopedic specialist or neurosurgeon can treat someone diagnosed with herniated discs.
3. Internal Bleeding
Compared to the two previously mentioned injuries, internal bleeding can be fatal. Symptoms such as bruising, dizziness, and fainting can be experienced by those suffering from internal bleeding. In extreme cases, abdominal swelling can occur. If you begin to feel any of these symptoms after a car crash with a semi-truck, don't hesitate to seek medical attention immediately.
McAllen Lawyers Prepared to Handle Your Semi-Truck Accident Claim
Semi-truck accidents can be life-altering. If you or a loved one have been injured in a semi-truck accident, seek out legal guidance from our experienced commercial truck accident lawyers in McAllen today.
At J. Gonzalez Injury Attorneys, we fight aggressively to ensure that you obtain fair compensation for your pain and suffering.